Bank of England issues warning over interest rates
TIMING SURPRISE: Economists had not expected a rise in the rates until next year, while the central bank also said it would look at housing market issues next week
Bank of England Governor Mark Carney said on Thursday that British interest rates could rise sooner than financial markets expect, in a surprisingly stark warning that monetary policy might start to tighten within months.
Speaking alongside British Chancellor of the Exchequer George Osborne, Carney also said the central bank would carefully weigh the merits next week of tackling housing market risks, including an undesirable loosening in mortgage underwriting standards.
Earlier on Thursday, Osborne said he would grant the bank new powers to impose maximum loan-to-value and loan-to-income ratios on mortgage lending, which Carney welcomed in his speech delivered to London's financial community.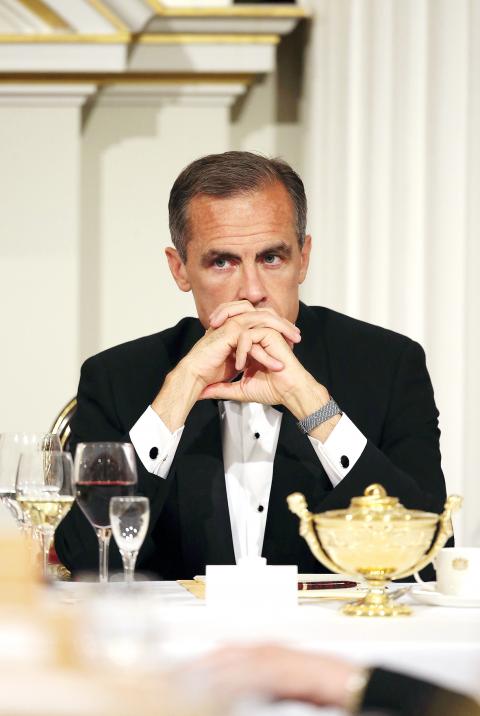 Bank of England Governor Mark Carney listens during an event for bankers and merchants at the Mansion House in London on Thursday.
Photo: Reuters
However, Carney's comments on the possible timing of an interest rate rise are the most striking. Relatively few economists had expected interest rates to increase until the second quarter of next year.
Carney said Britain's economy still had scope to grow without pushing up inflation, but that there was little sign yet of a slowdown in the pace of expansion that the central bank had penciled in for the second half of the year.
"There's already great speculation about the exact timing of the first rate hike and this decision is becoming more balanced," he said. "It could happen sooner than markets currently expect."
Sterling gained a cent against the US dollar to hit a one-month high above US$1.693 as traders bet on a rate rise that some thought could now come before the end of the year.
Carney said that more important than the timing of a first rate rise was that future increases be "gradual and limited," in part due to high household indebtedness and a drag on growth from a stronger currency.
He also said that the timing of a rate rise would depend on incoming data, and that the bank had no fixed plan on when to make the increase to the rates.
Carney said he was also concerned by signs that mortgage lending standards were becoming looser and set out the case for early action as insurance against future risks by the central bank's Financial Policy Committee, which is to meet next week.
He welcomed Osborne's plan for the bank to lead a new review into unethical behavior in financial markets, with a view to making a wider range of misconduct subject to criminal penalties.
He also said it was important that the central bank supported markets where needed. Within the next year, he said, major British brokers would be able to access Bank of England facilities on similar terms to banks.
The central bank would also consider expanding its capacity to lend in currencies other than sterling, he added.
Comments will be moderated. Keep comments relevant to the article. Remarks containing abusive and obscene language, personal attacks of any kind or promotion will be removed and the user banned. Final decision will be at the discretion of the Taipei Times.