Ministry in talks for riot-hit companies
BACK IN BUSINESS: The Ministry of Economic Affairs said that most Taiwanese firms hit by riots in Vietnam are operational again, but some needed compensation
More than 90 percent of Taiwanese businesses that suffered damage during last month's anti-China riots in Vietnam have resumed operations, while Taiwan and Vietnam are scheduled to hold joint mediation sessions twice a month to tackle the issue of compensation for damages suffered by the firms, a business group and the Ministry of Economic Affairs said yesterday.
"Taiwanese businesses have tried very hard to resume operations and are not considering withdrawing their investments," said Hsu Yu-lin (許玉林), the chairman of the Bing Duong Taiwan Business Association's reconstruction committee.
Operations have yet to be fully restored at most factories, with some companies renting factory space to set up production lines, he told a press conference in Taipei after the two nations concluded their first joint mediation session on Wednesday.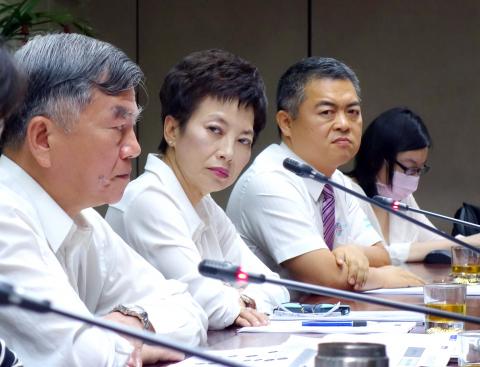 Council of Taiwanese Chambers of Commerce in Vietnam chairwoman Liu Mei-te, second left, and Taiwanese businesspeople with interests in Vietnam listen during a meeting in Taipei yesterday. They said that the Vietnamese government should punish those responsible for damage during the anti-Chinese violence that erupted late last month and assist Taiwanese businesspeople in getting back to business.
Photo: CNA
Seven companies that were set ablaze and suffered major damage were still in poor shape and unlikely to resume operations in the near term, Hsu said.
Despite the extent of the companies' direct losses, estimated at between US$150 million and US$500 million, "no company that I know of is considering withdrawing its investment," he said.
However, he said that if compensation measures were not in place soon, bicycle maker Asama Yuh Jiun Industrial Co (郁珺) could be the first Taiwanese company to throw in the towel after six of its 10 factories were set ablaze during the riots.
Liu Mei-te (劉美德), chairwoman of the Council of Taiwanese Chambers of Commerce in Vietnam, added at the press conference that the owner of Asama wants to stay in Vietnam.
"Although nobody wants to withdraw their investment, those who had planned to expand and increase their investment are now holding back on the projects," she said.
Taiwanese businesses are thankful for the Vietnamese government's active support after the riots, Liu said.
The violence erupted on May 13 when Vietnamese crowds took to the streets to protest a Chinese oil-drilling venture in an area of the South China Sea that Hanoi insists is in its exclusive economic zone.
Taiwanese businesspeople said that the protests had been hijacked by anti-government rioters seeking to hurt Vietnam's economy and were not specifically targeted at ethnic Chinese people.
The riots in the southern provinces of Binh Duong, Dong Nai and Ba Ria-Vung Tau, as well as in Ho Chi Minh City and the central province of Ha Tinh, affected 425 Taiwanese enterprises, 25 of which were seriously damaged.
Total damages could be as high as US$1 billion once lost profit and other indirect costs are added to the direct losses.
Vivian Lien (連玉蘋), director-general of the ministry's Department of Investment Services, said yesterday the government would like to hold more meetings with Vietnam to help Taiwanese firms convey their needs.
"Some of our demands have been met," she said during a break at the press conference.
Vice Minister of Economic Affairs Shen Jong-chin (沈榮津) is to serve as the leader of Taiwan's cross-ministry delegation to meet his counterpart, Vietnamese Vice Minister of Planning and Investment Dang Huy Dong.
The two sides are to set up task forces to focus on wages, labor, taxes, loans, insurance and security.
The date of the second meeting has not yet been confirmed, Lien said.
Comments will be moderated. Keep comments relevant to the article. Remarks containing abusive and obscene language, personal attacks of any kind or promotion will be removed and the user banned. Final decision will be at the discretion of the Taipei Times.