Silver lining in Syrian war as displaced boost coastal economy
The loyalist Latakia Governorate has weathered the three-year conflict largely unscathed, making it a magnet for those seeking a safe haven, who have in turn made the area an entrepreneurial hub
Hailing mainly from Aleppo, the massive influx of displaced families who have relocated to Syria's coast has boosted Latakia, a city whose economy heavily relied on its port and summertime tourism before the war.
"People here on the coast are more relaxed," said Haytham Ahmad, who heads the Latakia Governorate's media office.
"We like to get up late, sip our coffee and smoke our nargileh [water pipes] before we go to work, but people from Aleppo can't live if they aren't working from morning until night," he said.
A man on Monday drives a jet ski flying the Syrian flag off the beach in the port city of Latakia, northwest of Syria's capital, Damascus.
Photo: AFP
Latakia's population has doubled with the arrival of 1 million people fleeing violence in the northern city of Aleppo, Homs in central Syria and Idlib in the northwest. The loyalist province has remained mostly untouched by Syria's three-year war and as a result its economy is booming, unlike the rest of the country.
"There is a real economic boom. [The displaced] have got things moving and the jobless have found work," said Sami Sufi, who heads the Latakia Chamber of Commerce and Industry. "People from Aleppo have a knack for business and they've headed out to the nearby countryside to set up detergent, cosmetics and even food packaging factories."
Food, cheese and cable-making workshops have also sprung up on the outskirts of Syria's fifth-largest city, where rent is cheaper.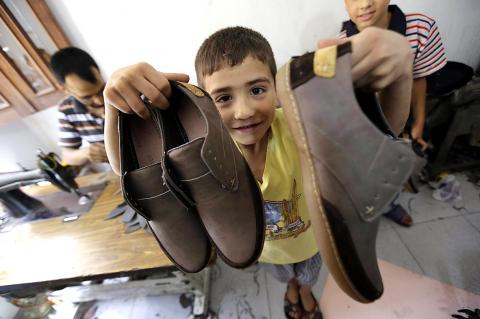 A boy displaced by fighting in Aleppo, Syria, holds up shoes made at his parents' factory in the country's Mediterranean port city of Latakia on Monday.
Photo: AFP
One of these new entrepreneurs is an Aleppo-born merchant who realized upon arriving in Latakia that there was only one man there selling kaak, a traditional Levantine sesame bread, and set up his own business. He now produces kaak in large quantities and distributes the delicacy throughout the province.
Even Aleppo's famed olive oil-based soap-makers have found their way to Latakia and are now exporting their produce to the US from the Mediterranean port city.
Abandoned for years, the industrial zone is now buzzing with activity, as textile, metal and mechanical workshops fill it out entirely.
Hassan Shobak, who produces tanker trucks, was the first to set up shop in Latakia after he shut down his 4,000m2 factory in Aleppo last year.
"We gave life to this empty place. Today, I have four workshops, and there isn't a single mete available, even as the owners raise the rent," said the 46-year-old Shobak, who employs 40 workers and sells his goods both within Syria and elsewhere in the Arab world.
"If the municipality gives us more space, we could set up a huge factory like in Aleppo. I am sure many industry owners who closed down their businesses because of the crisis would come here," Shobak said.
Aleppo was once Syria's economic hub, until it became consumed by violence after a major rebel onslaught in July 2012 that split the city into opposition and regime-held territories.
Several districts of the historic city have been reduced to rubble by heavy bombing and fighting, forcing hundreds of thousands of people to flee.
People displaced from other parts of Syria have also sought refuge in the coastal area, with businessmen from Homs focus primarily on solar energy production, while those from Idlib concentrate on mechanics and electronics.
Latakia city's commercial district has also become intensely vibrant thanks to the influx.
Omar Summak used to make hummus — the Levant's favorite chickpea-based dip — in the east of Aleppo, but when his city became a war zone, he put his family in his pickup truck and they made their way to Latakia.
Once he reached the coast, the 30-year-old started out selling vegetables, but "after passing through Anana Street, I realized no one was selling accessories and trinkets," Summak said as he stood in front of his truck, filled with brightly colored bracelets, plastic necklaces and earrings.
Prior to the war, Latakia's economy thrived in the summer, thanks to the inflow of tourists. Now, its beach resorts have become homes to displaced families.
About 600 villas near Blue Beach, in the north of Latakia, have been full for two years, despite soaring rental prices.
Sitting on the beach with his two wives and eight children, 35-year-old Mohammad Sankar said he left Aleppo nearly two years ago.
"We love to work and do business. Look at me, I left my city because of the security situation and 10 days after I arrived, I reopened my sweet factory here," Sankar said.
Sankar has also teamed up with a Latakia native to set up a sausage factory.
"Business is good, but of course, should the army retake Aleppo, I will return. I love Syria but my heart is still in my city," he said.
Daad Juni, a 45-year-old shop attendant, said that the downside to the influx of refugees has been the massive increase in prices.
"Prices have doubled since they [the displaced] came — including apartment and shop rental costs and food — but we don't complain, business is very good," Juni said.
Comments will be moderated. Keep comments relevant to the article. Remarks containing abusive and obscene language, personal attacks of any kind or promotion will be removed and the user banned. Final decision will be at the discretion of the Taipei Times.