Chinese village gunning for tourists
Biasha is the only Chinese village where people are allowed to own rifles, but its ethnic Miao residents are restricted to firing them during displays for tourists
A rifle shot tears the air of a mountain hamlet — met not with terror, but cries of delight in China's only remaining village where authorities encourage gun ownership.
"We start carrying guns from about 15 years old," said Jia Xinshan, fingering a wooden rifle's trigger as tourists snapped pictures of him in a shiny black coat. "We're the last gun tribe in China."
The armaments in Biasha, a village tucked amid the wooded peaks of Guizhou Province, are a reminder of an era of conflict between Beijing and the mountain tribes who still inhabit swathes of China's southwest.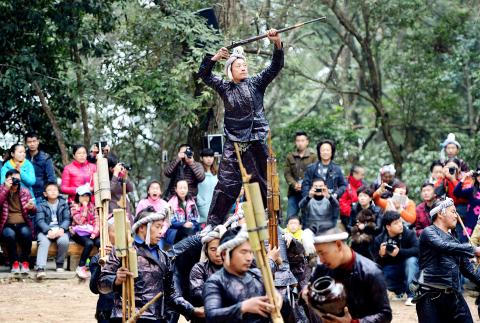 Members of the Miao minority group perform for tourists with their guns on Feb. 4 in Biasha Village in China's Guizhou Province.
Photo: AFP
Villagers are allowed to own rifles, but are restricted to firing them during displays for tourists — illustrating how once-restive minority groups have integrated with the state.
China, wary of social unrest and crime, bars most civilians from owning firearms, giving the village's gunpowdery atmosphere an illicit feel.
"We used to use our guns to protect the village," said Jia, 30, who performs daily in a dance routine where he thrusts his gun into the air before firing it.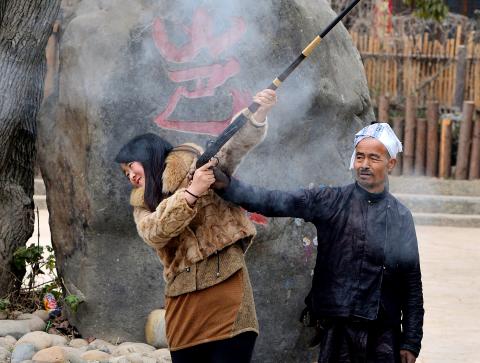 A member of the Miao minority group, right, assists a tourist in firing a rifle in Biasha Village in China's Guizhou Province on Feb. 4.
Photo: AFP
"Now we carry them to give tourists an impression," he said.
Biasha's wooden shacks that cling to hillsides are home to members of the Miao minority, an ethnic group of about 12 million people who are more at home in their own languages than Mandarin Chinese.
The name "Miao" was first applied to hill tribes who fought bloody rebellions against the Chinese state, which pushed south in the 1600s, forcing locals into high mountain territory.
Miao fighters had "considerable experience with firearms," as early as 1681, according to historian Robert Jenks, whose account of the rebellion was published by the University of Hawaii.
However, the deadliest clashes occurred in the 19th century, where by some estimates several million died.
Chinese forces lost 30 to 40 men a day from Miao snipers who fired into government camps under cover of darkness, a British mercenary commented in 1870, according to Jenks.
The rebellions were finally put down and Miao leaders executed in 1872 by Chinese army regiments.
Mountain groups "went through a process of adaption to the new nation-state system," said Cheung Siu-woo (張兆和), a professor at the Hong Kong University of Science and Technology.
The Miao achieved their first official recognition as an ethnic group by the republic that followed the collapse of China's last dynasty in 1912, granting them limited autonomy, a status that continued when the Communist Party took power three decades later.
The Miao's accommodation with the government contrasts with other groups such as Tibetans and Uighurs, who continue to clash with authorities over what they claim is cultural repression.
Villagers in Biasha said just one gunmaker remains — in a hillside shack where vegetables hang from the roof and metal weapon scraps fill a wicker basket.
"It takes two or three days to make a gun," said Gun Laosheng, the craftsman. "My father taught me, because he loved guns and was great at hunting wild birds."
However, these days locals prefer to profit from tour groups, he said.
"Now you spend a day hunting and you don't even know if you'll shoot anything, so it makes more sense to work and buy some meat," he said.
Many villagers have taken the surname Gun, whose similarity with the English word is just coincidence.
Hunting has been virtually banned to protect wildlife, locals said. Villagers are also prohibited from firing guns outside of performances.
"We're not even allowed to buy gunpowder on the market, so we have to secretly buy it," said one young villager who asked not to be named.
Ning Jingwu (寧敬武), a film director who spent more than a year in the village, said: "The government allows them to keep guns, but is very scared about gun production."
However, an illicit trade survives — in Guiyang City just 300km from Biasha; police this month seized 15,000 guns from an "illegal ring."
"People come from outside the village to sell guns, but the locals won't admit it," Ning said.
"Now the gun has turned into a tool for performances, which we think is kind of sad," he said.
In Biasha's stone-paved village square, opposite a tourist hotel labeled "The Gunner Inn," five-year-olds pose with plastic replica rifles, while visitors pay to fire shots into the air.
Wearing a brand-new backpack, 27-year-old Tan Ying, a Han Chinese, came to Biasha with a sightseeing group.
"They used to have guns to fight us Han, but now I feel they are more or less the same as us," she said.
Sitting on a grassy knoll, 37-year-old gunner Guan Nila said: "Our country is peaceful now so we don't need to use guns."
"If I wanted to fight, I would just hit you, and not use any weapons," he said.
Comments will be moderated. Keep comments relevant to the article. Remarks containing abusive and obscene language, personal attacks of any kind or promotion will be removed and the user banned. Final decision will be at the discretion of the Taipei Times.