Wind turbine protesters stage sit-in
TETE-A-TETE: Vice Minister of Economic Affairs Shen Jong-chin is to meet with the protesters on Wednesday next week and no more construction will occur before then
About 30 protesters yesterday staged a sit-in at the Ministry of Economic Affairs to express their objection to the government's management of a wind turbine construction project in Miaoli County's Yuanli Township (苑裡).
The protesters, mostly members of the Yuanli Self-Help Group (苑裡反瘋車自救會), accused the ministry of twice extending permit for German wind power company InfraVest Wind Power Group to set up six wind turbines at Yuanli without previously consulting the residents.
They demanded the ministry conduct hearings so that local residents can have a say in the project and not to issue construction permits arbitrarily.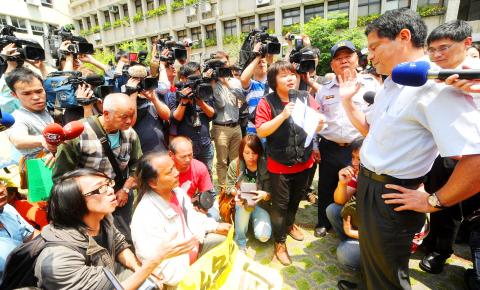 A Ministry of Economic Affairs official, right, talks to protesters staging a sit-in at the ministry in Taipei yesterday.
Photo: Liu Hsin-de, Taipei Times
They also called on the government to amend the law related to the minimum distance between wind turbines and habitation, which is set at 250m, shorter than a range of between 400m and 1,500m in countries such as Denmark and Germany.
"We want the ministry to tell us why it did not inform local residents ahead of meeting InfraVest and granting construction permits to the company," the group's spokesperson, Liu Hsueh-lan (劉雪蘭), told the Taipei Times. "It's absolutely a dereliction of duty that the ministry did not establish standards for wind power companies setting up large wind turbines in Taiwan, enabling InfraVest to exploit legal loopholes and build hundreds of large wind turbines on the west coast."
Liu said InfraVest's turbines had caused local residents "serious noise and safety issues."
For instance, a large wind turbine was installed only 150m from a fisherman's workplace, said Tsai Chun-ju (蔡鈞如), a National Chiao Tung University graduate, who joined the protesters yesterday.
InfraVest should stop construction immediately, Tsai said.
The company also needs to lengthen the minimum distance from habitation to between 1,500m and 2,000m, she added.
Lee Chun-li (李君禮), head of the Bureau of Energy's electricity division, confirmed yesterday that the ministry last month granted a construction permit to InfraVest following an internal meeting.
Lee said InfraVest is likely to finish the project by May next year.
Vice Minister of Economic Affairs Shen Jong-chin (沈榮津) yesterday met with the group of protesters and agreed to set up a meeting with them on Wednesday next week. Prior to that meeting, InfraVest is not allowed to continue construction work, Shen said.
The protesters left the ministry at about 3pm yesterday.
Over the past two years, InfraVest has filed a total of 46 civil and criminal actions against members of the Yuanli Self-Help Group. While InfraVest agreed to withdraw its lawsuits, the protesters are insisting on "procedural justice," Tsai said.
Tsai said the group welcomes the government promoting alternative clean sources of energy, but that it should develop a mechanism for local residents to participate in projects, not stand on the side of large enterprises.
Comments will be moderated. Keep comments relevant to the article. Remarks containing abusive and obscene language, personal attacks of any kind or promotion will be removed and the user banned. Final decision will be at the discretion of the Taipei Times.