Toyota to recall 6.39 million vehicles globally for steering and other faults
Toyota Motor Corp yesterday said it would recall 6.39 million vehicles globally for faults affecting various parts ranging from steering to seats in the company's second-largest recall to date.
The world's biggest automaker said it was not aware of any crashes or injuries caused by the glitches, which were found in 27 Toyota models including the RAV4 sport-utility vehicle (SUV) and Yaris subcompact.
Toyota said faults were also found in the Pontiac Vibe and the Subaru Trezia, two models the automaker built for General Motors Co (GM) and Fuji Heavy Industries.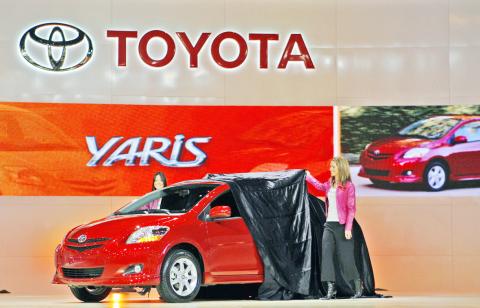 Toyota representatives unveil the 2007 Yaris S Sedan at its global debut at the Los Angeles Auto Show in Los Angeles, California, on Jan. 4, 2006.
Photo: Reuters
RECALL COSTS
The automaker did not say how much the recall would cost and it was not clear if the faults stemmed from Toyota's suppliers or its manufacturing process.
"We sincerely apologize to our customers for the inconvenience and concern brought by this recall announcement," Toyota said in a statement.
Large-scale recalls have become more common in recent years as automakers move to fix defects quickly after Toyota was forced to recall more than 9 million vehicles to address sticky accelerators linked to fatal accidents.
That recall, which forced Toyota president Akio Toyoda to testify in the US Congress, weighed heavily on the company's sales and reputation, culminating in a record US$1.2 billion settlement agreed only last month, with more private lawsuits still pending.
Toyota said about 3.5 million vehicles were being recalled to replace a spiral cable that could be damaged when the steering wheel is turned, causing the air bag to fail to activate in the event of a crash. About half of those vehicles, produced between April 2004 and December 2010, are in North America.
Another 2.32 million three-door models made between January 2005 and August 2010 are being recalled to check the rails that could cause the seat to slide forward in a crash.
FAULTY PARTS
The other recalls are for faulty steering column brackets, windshield wiper motors and engine starters, Toyota said.
Toyota's latest recall comes as rival GM is under investigation for failing for years to act on a known ignition switch defect linked to a dozen deaths. GM has recalled 1.6 million vehicles over the issue.
Chrysler also said last week it was recalling nearly 870,000 SUVs to fix a brake problem.
Comments will be moderated. Keep comments relevant to the article. Remarks containing abusive and obscene language, personal attacks of any kind or promotion will be removed and the user banned. Final decision will be at the discretion of the Taipei Times.