JPMorgan China CEO Fang Fang to depart firm
Fang Fang (方方), JPMorgan Chase & Co's chief executive officer of investment banking for China, is leaving after more than 12 years at the firm.
The 48-year-old banker told New York-based JPMorgan that he wanted to retire, according to an internal memo obtained by Bloomberg News yesterday. Frank Gong (龔方雄) was named chairman of China investment banking in the message from Therese Esperdy, co-head of Asia-Pacific banking at the firm.
Fang's impending departure comes amid an investigation into JPMorgan's Asian hiring practices. US authorities are examining whether the firm employed people in Asia so that their relatives in government would steer business to the bank, people with knowledge of the probes have said.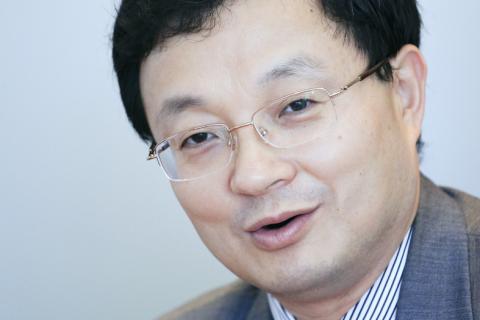 Fang Fang, chief executive officer of China investment banking for JPMorgan Chase & Co, speaks during an interview in Beijing on July 24, 2012.
Photo: Bloomberg
Fang joined JPMorgan in August 2001 and was a former vice president of Beijing Enterprises Holdings Ltd (北京控股), an investment company controlled by the government of China's capital. He became head of JPMorgan's China investment-banking business in 2007 and was made vice chairman for Asia investment banking in 2009.
The banker submitted his resignation last week as he wants to spend more time with his family, a person with knowledge of the matter said.
US prosecutors were given e-mails written by Fang in which the banker supported the hiring of China Everbright Group (中國光大集團) chairman Tang Shuangning's (唐雙寧) son, the Wall Street Journal reported yesterday, citing people it did not identify. Those e-mails also highlighted the potential for doing business with the Chinese state-backed conglomerate, the newspaper said.
Fang, who has become a key figure for US investigators, has not been accused of any wrongdoing, the Journal said.
JPMorgan, which was the world's biggest investment bank by fees last year, said in August that the US Securities and Exchange Commission had sought information on its employment of certain people in Hong Kong, and client relationships. The bank has not been charged with any wrongdoing.
The SEC has also asked several other global investment banks for information about their hiring practices, according to four people familiar with the matter.
The probes have posed hurdles to JPMorgan's involvement in at least two recent investment-banking transactions.
The bank decided to quit China Everbright Bank Co's Hong Kong share sale in November last year because the investigation delayed an internal approval process, according to two people with knowledge of the matter.
The US$3 billion deal was the largest first-time offering by any company in Hong Kong last year.
In January, JPMorgan bowed out of Tianhe Chemicals Group's (天合化工) IPO as questions arose over the firm's previous employment of the daughter of Tianhe's chairman, according to two people with knowledge of the matter. She left the bank in August of last year, one of the people said.
Regulators are probing the hirings to determine whether JPMorgan violated the Foreign Corrupt Practices Act of 1977, which makes it illegal to provide payments or benefits to government officials to win business.
Investigators questioned Gaby Abdelnour, JPMorgan's former Asia-Pacific head, about his knowledge of the firm's hiring program, a person briefed on the matter said two months ago. Abdelnour has not been accused of wrongdoing.
The banker, who stepped down at JPMorgan in 2012 and later worked as a senior adviser at Bain Capital LLC, was met by FBI agents while traveling through a New York-area airport late last year and then interviewed, said the person.
Abdelnour had been appointed in July 2006 to run JPMorgan's Asia-Pacific business from Hong Kong, reporting to then-investment bank co-heads Steven Black and William Winters.
Comments will be moderated. Keep comments relevant to the article. Remarks containing abusive and obscene language, personal attacks of any kind or promotion will be removed and the user banned. Final decision will be at the discretion of the Taipei Times.