Myanmar's log export ban to hurt business, but help forests
With the nation's forest cover shrinking by almost a fifth in two decades, the government is hoping the ban will force big forestry companies to invest in new processes and diversify
Myanmar will ban the export of raw timber logs from April 1, choking off profits in a sector that provided critical funding to the country's former military rulers for decades, as a new reformist government steps up efforts to save forests.
Myanmar has some of Asia's largest remaining expanses of forests, from the slopes of Himalayan foothills in the north to steamy rainforest in the south.
However, it has been disappearing fast.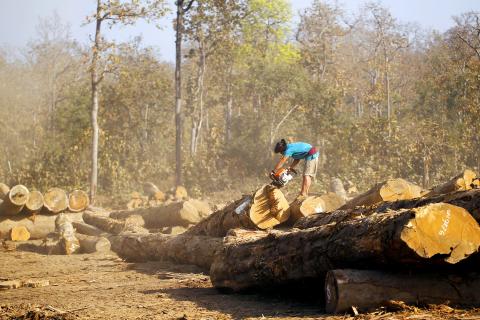 A man uses a chainsaw to cut teak logs in a logging camp in Pinlebu Township, Sagaing, northern Myanmar, on March 4.
Photo: Reuters
Forest cover shrank by almost a fifth to 47 percent of land area in 2010, from 58 percent in 1990, Ministry of Environmental Conservation and Forestry data show.
Total timber exports of 1.24 million cubic tonnes in the fiscal year to March 2013 brought in more than US$1 billion in revenue, government figures show.
While timber remains an important income stream for Myanmar's rulers after a quasi-civilian government took over from the military in 2011, it is not as critical as before.
An elephant pulls a teak log in a logging camp in Pinlebu Township, Sagaing, northern Myanmar, on March 6.
Photo: Reuters
To recognize Myanmar's economic and political reforms, the EU, the US and other countries have eased or lifted sanctions, allowing foreign investment in sectors such as telecommunications.
The reforms are now reaching into the forestry sector, with the government ready to put conservation above profit.
The prohibition is likely to hurt the forestry industry, which generates about 90 percent of export earnings from raw logs and not finished products, Myanmar Timber Merchants' Association head Barber Cho said.
"Myanmar industry might suffer, some people might suffer," said Barber Cho, whose group represents about 900 companies.
"It's a difficult and complicated juncture for us," he said.
Under the new rule, revenues could plummet, forcing forestry firms to invest in new sawmills to stay competitive.
However, the action was necessary, as the former junta had practiced "legal overproduction" that decimated Myanmar's forests for decades, Barber Cho said.
Crippled by sanctions, chronic economic mismanagement and starved for hard currency, the generals gave logging concessions to their cronies to export raw logs in exchange for the cash needed to prop up their rule.
Forest products were the junta's second-most important source of legal foreign exchange and exports earned US$428 million in the fiscal year to March 2005, natural resources watchdog group Global Witness said.
Among the big companies involved in the business are Asia World, the Htoo Group and Yuzana Co. Htoo Group and Yuzana are the two biggest palm oil companies in the environmentally sensitive southern region of Tanintharyi.
Yuzana also runs an 81,000-hectare biofuel concession in the world's largest tiger reserve in northern Kachin State, where the military has contracted with Asia World to build roads and dams, conservation group Forest Trends says.
"All these renowned companies were granted associated rights over timber extraction in their project area," the group based in Washington said in a recent report.
The ban, covering all kinds of trees, will end Myanmar's status as the only country to export raw teak logs from natural forests rather than plantations. Exports of teak wood alone earned US$359 million last year.
"Of course, this ban should have been imposed a long time ago, but it's better late than never," a ministry official said.
"We believe it will help encourage wood-based industry and increase job opportunities," said the official, who declined to be identified as he was not authorized to talk to media.
From next year, the government also plans to slash by 80 percent the amount of teak it allows to be taken from the forests, Barber Cho said.
How the cronies will fare is an open question, but it is clear that Myanmar's notoriously opaque timber industry has long been a key source of wealth for many prominent businessmen.
Tycoon Tay Za said his Htoo Group, engaged in businesses ranging from mining to tourism, grew from a humble start, based on a loan from his mother-in-law to set up a sawmill.
Tay Za said he did not exploit connections to win concessions, which were allotted through a bidding process, but he did say his father served with top figures in the military, including Than Shwe, who ruled Myanmar from 1992 to 2011, while Tay Za was building his business empire.
"It was a fair competition," Tay Za said in a December interview. "No need to know the minister, only open competition."
Groups such as Forest Trends and others familiar with the way the junta worked say tenders were for show. The real concessions were shared out in backroom deals.
"It was not a tender system, it was a negotiation system," Barber Cho said.
Data shows one of Tay Za's firms received a 270,000-hectare tract of rainforest in a proposed national park in Tanintharyi, one of Myanmar's most biodiverse regions.
Tay Za logged almost two-thirds of another 65,000 hectares of nearby palm oil concessions awarded to him during the five years to fiscal 2007-2008, data show.
Tay Za, as well as representatives of Yuzana and Asia World, did not respond to requests for comment.
The log export ban will force dominant forestry companies to invest in new processes and diversify, said Aung Thura, of the Yangon-based research and consulting firm Thura Swiss.
"It will have an impact on them, but it won't destroy them," he said. "It's in their interest to diversify, not just export raw logs."
Additional reporting by Aung Hla Tun
Comments will be moderated. Keep comments relevant to the article. Remarks containing abusive and obscene language, personal attacks of any kind or promotion will be removed and the user banned. Final decision will be at the discretion of the Taipei Times.