Peugeot to sell stake to Dongfeng, France
PSA Peugeot Citroen, which has not posted a profit since 2011, has agreed to bring in Chinese partner Dongfeng Motor Corp (東風) and France as investors as part of a 5.27 billion-euro (US$7.26 billion) rescue plan to fund new vehicles.
Peugeot will shore up financing by selling new stock and warrants and setting up auto-loan joint ventures with Banco Santander SA, the Paris-based manufacturer said yesterday. The carmaker also renewed a 2.7 billion-euro credit line with banks.
Dongfeng and the French state will each pay a total of 800 million euros for a 14 percent stake apiece, accounting for about half of a capital increase of 3 billion euros.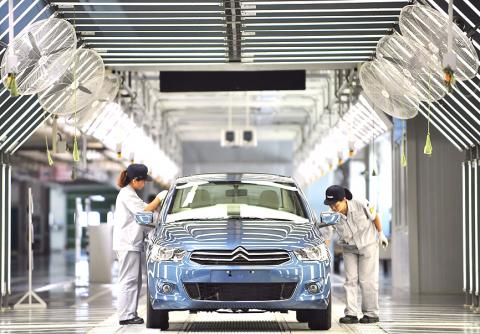 Employees work on a production line at a new Dongfeng Peugeot-Citroen Automobile Ltd plant in Wuhan, China, on July 2 last year.
Photo: AFP
The sale would mark a turning point for the 118-year-old carmaker, Europe's second biggest, as the founding Peugeot family relinquishes control for the first time in a bid to fund new models and push into countries with stronger demand for autos.
"We need to redefine a winning strategy in Latin America and Russia, which will require global products and low-cost platforms that will be localized in these countries," along with hybrid powering technologies and production in "the periphery of Europe," Peugeot chief financial officer Jean-Baptiste de Chatillon said in a conference call.
The investment and debt-reduction packages will let Peugeot "invest in research and development and deal with our product plans" through 2019, he said.
The deal is Peugeot's second attempt in two years to bring in a long-term strategic investor to fund vehicle development and expansion in emerging markets to stem losses. General Motors Co bought a stake in early 2012 that was unwound after 21 months when savings from cooperation missed targets.
Peugeot reported a loss of 177 million euros last year, its second unprofitable year in a row. Operating free cash flow was a negative 426 million euros versus cash burn of 3 billion euros in 2012.
In a two-step capital increase, Dongfeng and France will each acquire 524 million euros of stock and then buy another 276 million euros in the 3 billion-euro rights offer at 7.50 euros a share, Peugeot said.
The carmaker plans to sell another 770 million euros in warrants carrying the right to shares at the same price. The lending ventures to be set up between the manufacturer's Banque PSA Finance division and Madrid-based Banco Santander, Spain's biggest bank, carry "potential cash upstream" of as much as 1.5 billion euros by 2018, Peugeot said.
The company also said former Renault SA manager Carlos Tavares will succeed Philippe Varin as chief executive officer on March 31.
The French company is controlled through a 25.5 percent equity stake owned by descendants of Armand Peugeot, who set up the automaker in 1896.
The family also holds 38.1 percent of the voting rights. The family will take part in the capital increase so its ownership will match the Dongfeng and French state stakes, Peugeot said.
Comments will be moderated. Keep comments relevant to the article. Remarks containing abusive and obscene language, personal attacks of any kind or promotion will be removed and the user banned. Final decision will be at the discretion of the Taipei Times.