Apple's Q1 results fail to woo market
UNIMPRESSED: Despite posting its best sales of iPhones and iPads ever in a first fiscal quarter, investors' concerns that Apple is no longer a tech pioneer remain unassuaged
It is going to take more than brisk sales of Apple Inc's iPhone and iPad to convince investors that the technology giant still has the magic touch.
Wall Street's nagging doubts about Apple's growth prospects were magnified late on Monday with the release of the company's results for a three-month period that encompassed the holiday shopping season.
Even though Apple sold more iPhones and iPads than in any previous quarter, the showing still disappointed investors, who were expecting even bigger things from the Cupertino, California-based company.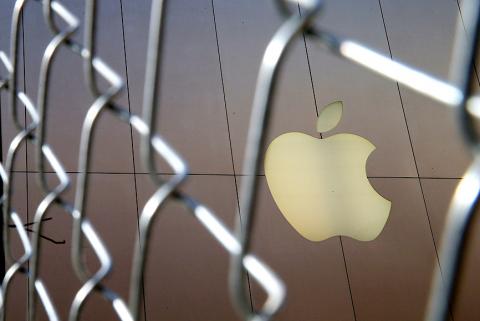 An Apple Inc logo on the exterior of an Apple store is pictured through a chain link fence on Monday in San Francisco, California.
Photo: AFP
The fiscal first-quarter numbers reinforced perceptions that Apple is now mostly selling its mobile devices to repeat customers who are upgrading to the next generation in the product line, instead of reeling in new converts to its technology.
A similar problem also appears to be looming for Samsung Electronics Co, which competes fiercely against the iPhone.
"It looks like the high end of the smartphone market is becoming saturated," Gartner Inc analyst Van Baker said.
If that is true, Apple is likely to be hard pressed to lift its stock to where it stood at its peak price of more than US$700 in September 2012. That was before investors began to fret about fiercer competition in mobile devices and Apple's lack of a breakthrough product since the iPad's launch nearly four years ago.
Apple's management amplified those concerns with a revenue forecast of US$43 billion for the current quarter ending in late March, a figure that falls about US$3 billion below analysts' predictions.
The company's projection also raised the unsettling specter of Apple's quarterly revenue declining from annually for the first time in more than a decade. It last happened during the opening three months of 2003.
Apple's stock shed US$44.50, or 8 percent, to US$506 in extended trading following the release of the earnings report.
Apple chief executive officer Tim Cook sought to reassure investors during a Monday conference call during which he reiterated previous statements that Apple plans to plow new fields in technology, but did not provide further specifics.
"Innovation is deeply embedded in everybody here," Cook said, adding that: "We have zero issue coming up with things we want to do that we think we can disrupt in a major way."
Analysts believe Apple will broaden its horizons this year by introducing an Internet-connected "smartwatch" to establish a toehold in the still nascent market of wearable computing. Speculation about Apple making a television set that would run the same software as the iPhone has been circulating for years.
Devices running Google Inc's Android software have been siphoning sales from the iPhone because they usually cost less and many of them feature bigger screens than the iPhone's 4-inch display.
An iPhone with a display screen spanning nearly 5 inches is being prepared for sale later this year, according to unidentified people cited in a recent report in the Wall Street Journal.
Apple earned US$13.07 billion, or US$14.50 per share, in the quarter ending on Dec. 28 last year, while its revenue for the fiscal first quarter rose 6 percent to US$57.6 billion.
That is approximately unchanged from the US$13.08 billion, or US$13.81 per share, it recorded in the previous year.
Analysts, on average, had expected Apple to earn $US14.09 per share on revenue of US$57.5 billion, according to FactSet.
Comments will be moderated. Keep comments relevant to the article. Remarks containing abusive and obscene language, personal attacks of any kind or promotion will be removed and the user banned. Final decision will be at the discretion of the Taipei Times.