French court approves 75% tax law
France's top court yesterday approved a proposal for companies to pay 75 percent tax on annual salaries exceeding 1 million euros (US$1.35 million) in line with French President Francois Hollande's drive to limit executive pay at a time of economic hardship.
The French Constitutional Council had earlier in the year thrown out one of Hollande's key campaign pledges to impose a 75 percent tax on individuals earning more than 1 million euros.
The rejection of that proposal exempted those who had a significant inheritance, but low incomes from coming under the 75 percent tax bracket.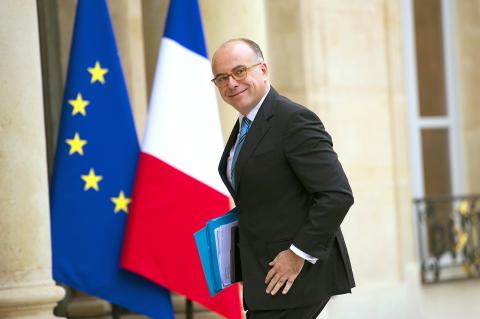 French Junior Minister for Budget Bernard Cazeneuve arrives at the Elysee Palace in Paris on Oct. 31 to attend a meeting about a proposed super tax of 75 percent on salaries of more than 1 million euros (US$1.35 million) a year.
Photo: AFP
After that setback, Hollande in March mooted a proposal to make companies pay for top earners.
He had said the idea was "not to punish," but added that he hoped it would spur companies to lower executive pay at a time when the economy is suffering, unemployment is soaring and workers are being asked to accept wage cuts.
Hollande has pledged to rein in spiraling unemployment by the end of this year.
On Thursday, the latest government statistics showed France's number of registered jobseekers rose by 17,800 to 3.29 million last month, with French Labor Minister Michel Sapin claiming Hollande's pledge to curb growing joblessness by the year's end was still on track, if part-time and short-term workers were counted in the total number of jobseekers.
The government's belt-tightening budget for next year aims to bring down the public deficit from the current level of 4.1 percent to 3.6 percent of GDP through spending cuts totaling 15 billion euros and new taxes.
The surtax on companies posting a turnover of more than 250 million euros has been doubled, a measure that is expected to bring in 2.5 billion euros a year.
France's economy contracted 0.1 percent in the third quarter, the statistics body INSEE reported on Tuesday last week, while revising up second-quarter GDP growth to 0.6 percent from 0.5 percent.
The statistics agency also confirmed its growth forecast for the fourth quarter of 0.4 percent. That wards off the threat of a double-dip recession in the eurozone's second-largest economy.
Comments will be moderated. Keep comments relevant to the article. Remarks containing abusive and obscene language, personal attacks of any kind or promotion will be removed and the user banned. Final decision will be at the discretion of the Taipei Times.