Wistron establishes 'smart terminal' division
Wistron Corp (緯創), the world's third-largest laptop contract manufacturer, yesterday said it would set up a new business unit to focus on handset, tablet and flat-panel TV applications.
The establishment of the new "smart terminal" division is part of the company's restructuring effort, which will see Wistron continue providing technology services to educational institutions, small businesses and digital families, Wistron president Robert Hwang (黃柏漙) said yesterday in Taipei.
In addition, the company will further consolidate its laptop, desktop and LCD monitor divisions as the global PC market dwindles, while continuing to expand its components division, which includes touch components, optical display modules and green recycling, he said.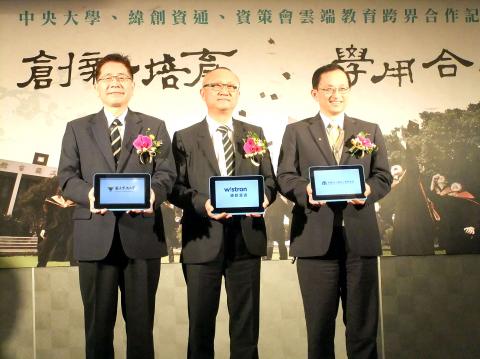 National Central University president Jou Jing-yang, left, Wistron Corp president Robert Hwang, center, and Institute for Information Industry president Wu Ruey-beei hold tablet computers after signing agreements yesterday for Wistron to build educational cloud services.
Photo: CNA
COOPERATION
Hwang's remarks came after Wistron yesterday signed agreements with the National Central University and the Institute for Information Industry (III) to build educational cloud services.
Like other laptop makers, Wistron is under pressure to diversify its product portfolio to beat a slumping PC market, while increasing profitability through investments in smart device and cloud computing-related businesses.
The company and the university will jointly develop a "Course Map" system to help undergraduates organize their learning schedules more efficiently, as well as an "e-Portfolio" system that allows students to save and review their study records on cloud servers.
The company has also been working with the III to digitalize many of the institute's vocational training courses, which will be available online early next year so that college students can increase their work skills before graduating.
"Wistron has a vision of becoming the leading player in the Chinese-language educational sector around the world," Hwang said at the signing ceremony.
"The new systems will provide students with complete learning identification, which will be useful information when they enter the job market," he said.
The III estimates that Taiwan's cloud computing market would grow to NT$41.2 billion (US$1.38 billion) next year, more than double the NT$15.3 billion in 2009.
The company will also enter the educational cloud market in Southeast Asia next year in a move to expand its cloud computing business, Hwang said.
SMART CLASSROOMS
Wistron became an officially authorized supplier to smart classrooms in Malaysia last month after spending two-and-a-half months on a trial project there, he said.
The company plans to build 3,000 to 4,000 smart classrooms in Malaysia based on its educational cloud platform, software and terminal devices, he added.
Hwang said this year was a "starting year" for Wistron's cloud business and that he was optimistic about the sector's growth in the coming years, when the company ventures into more Southeast Asian markets, such as Vietnam and Indonesia.
The company has helped build more than 100 smart classrooms in Taiwan, including 51 in Greater Kaohsiung, he said.
Furthermore, Wistron is negotiating with a telecom operator in China to build more than 1,000 digital homes in Beijing early next year, which will use Wistron's cloud platform to integrate PCs with home entertainment, medical, security and shopping features, Hwang said.
Wistron shares moved up 1.84 percent to close at NT$24.95 yesterday, compared with the broader market's 0.57 percent increase.
Comments will be moderated. Keep comments relevant to the article. Remarks containing abusive and obscene language, personal attacks of any kind or promotion will be removed and the user banned. Final decision will be at the discretion of the Taipei Times.