K7 plant shutdown costly: ASE
ASSISTANCE: The Ministry of Economic Affairs said it would help ASE resume operations as soon as possible, while urging the firm to safeguard workers
Advanced Semiconductor Engineering Inc (ASE, 日月光半導體) yesterday said that a government order to shut down some facilities at its K7 plant in Greater Kaohsiung may result in a monthly loss of up to US$18 million.
The factory, in Greater Kaohsiung's Nanzih Export Processing Zone, accounts for about 9 percent of the company's monthly sales, the world's biggest chip packager said.
While expressing regret over the order to shut down, ASE said it would continue paying the salaries of the 5,000 workers at the K7 plant and safeguard employment-related rights.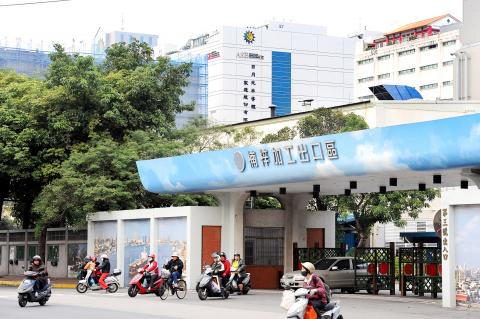 People leave work yesterday at chip tester and packager Advanced Semiconductor Engineering Inc's K7 factory in Greater Kaohsiung.
Photo: Chang Chung-yi, Taipei Times
"The company regrets the decision of the Greater Kaohsiung Government's Environmental Protection Bureau," ASE chief financial officer Joseph Tung (董宏思) told a press conference.
"ASE will address its mismanagement problems in the shortest time possible and apply to the bureau for resumption of operations afterward," Tung said.
In the meantime, the company has sought legal solutions and assigned lawyers to figure out the bureau's decision, he added.
Addressing market concern that clients might switch orders, ASE said it had explained the situation to clients, emphasizing that production remains under control despite the suspension of K7.
In a report released on Monday, JPMorgan Securities Taiwan Ltd said that ASE would still be able to provide sufficient flip-chip and wire-bonding packaging services to clients, in the case of K7's closure.
However, JPMorgan said that some clients that have contracted ASE for fabless chip design services might switch some of the orders to Taiwan Semiconductor Manufacturing Co (台積電), Siliconware Precision Industries Co (矽品精密) or Amkor Technology Inc of South Korea, since up to 60 percent of ASE's wafer-bumping capacity comes from K7.
"Since most of the wafer bumping orders are multi-sourced, this could move away quickly if K7 is suspended," JPMorgan said in a note.
Meanwhile, the Ministry of Economic Affairs yesterday called on ASE to comply with labor laws and ensure that workers' rights are safeguarded during K7's shutdown.
The ministry said in a statement that it respects the local environmental protection bureau's decision and would continue offering assistance to ASE to help it resume operations as soon as possible.
Following ASE's submission of a proposal to the Export Processing Zone Administration on Thursday, the ministry has established a task force aimed at helping the company improve its wastewater management, the ministry said.
Given that ASE is the world's biggest chip packager and plays an important role in the country's semiconductor industry, the ministry said it may ask other local chip packagers if they could fill in should there be a production shortfall.
ASE reported a net profit of NT$16.6 billion on sales of NT$194 billion last year. The company counts TSMC, MediaTek Inc (聯發科) and Qualcomm Inc among its major clients.
ASE shares closed unchanged at NT$27.25 yesterday.
Comments will be moderated. Keep comments relevant to the article. Remarks containing abusive and obscene language, personal attacks of any kind or promotion will be removed and the user banned. Final decision will be at the discretion of the Taipei Times.