PS4 units damaged in shipping: Sony
Sony Corp said some of the PlayStation 4 (PS4) consoles that went on sale in North America last week were reportedly damaged during shipping, following customer complaints the devices suddenly turned themselves off.
Sony sold more than 1 million PS4 consoles during the first 24 hours of sales.
Some buyers reported the power-indicator light kept blinking, there was no picture or sound coming from their televisions, or the machine powered down on its own, the company said.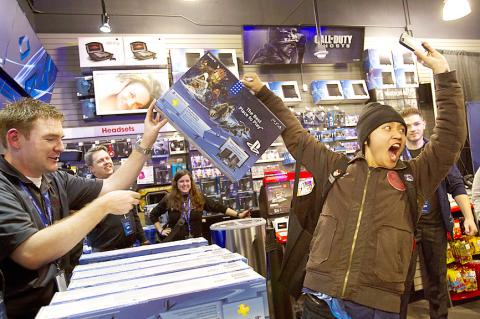 Nicholas Swe, right, reacts after purchasing a Sony PlayStation 4 console during its launch event in San Francisco, California, on Thursday last week.
Photo: Bloomberg
"There have been several issues reported, which leads us to believe there isn't a singular problem that could impact a broader percentage of PS4 units," Satoshi Nakajima, a Tokyo-based spokesman for Sony, said in an e-mail. "We also understand that some units were reportedly damaged during shipping."
The malfunction rate for the machines is less than 1 percent, Nakajima said.
Some customer comments posted on the Amazon.com Inc and Best Buy Co Web sites said the devices did not work upon delivery.
Amazon is working with Sony to assist the "small percentage of customers who reported issues," the company said in a statement.
The Seattle-based online retailer said it shipped more PS4 devices than any other video-game console in its history.
"We've worked hard to ensure all elements of our packaging and supply chain delivery are of the highest possible standards," Amazon said in the statement. "We've used the same tried-and-true processes implemented successfully with other gaming consoles."
Sony is almost breaking even on the production of its PlayStation 4 console after abandoning the use of custom components that contributed to losses on earlier models, an analysis of the product showed.
Materials for each player cost US$372, and manufacturing adds US$9 more in expenses, researcher IHS Inc said yesterday in an e-mailed statement.
Those outlays amount to US$18 less than the US$399 US retail price. When other expenses are tallied, Sony will still take an initial loss on each player sold, IHS said.
Lower production costs were a crucial part of Sony's game plan for the PS4.
Andrew House, head of the unit, has said the decision to use readily available components on the new console, instead of custom chips and other parts, was made in part to reduce costs and ensure adequate supplies.
Relatively low material costs "will allow the company to break even or attain profitability in the future as the hardware costs undergo normal declines," IHS said.
Additional costs would include software, licensing, royalties and other outlays, IHS said.
Comments will be moderated. Keep comments relevant to the article. Remarks containing abusive and obscene language, personal attacks of any kind or promotion will be removed and the user banned. Final decision will be at the discretion of the Taipei Times.