TransAsia Airways in race to establish low-cost carrier
TransAsia Airways Corp (TNA, 復興航空) yesterday said it would establish a low-cost carrier subsidiary within one year to meet rising demand.
The company, which mainly serves passengers on regional and cross-strait routes, said it planned to invest between NT$2 billion and NT$3 billion (between US$66.7 million and US$100 million) to operate the subsidiary.
To compete with the 12 foreign budget airlines already operating in Taiwan, TransAsia's carrier is to capitalize on its locally based customer service to communicate directly with travelers.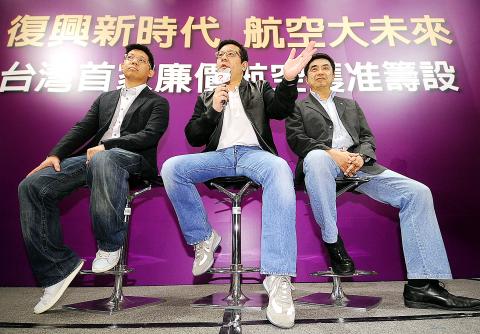 TransAsia Airways chairman Vincent Lin, center, announces the creation of a low-cost carrier subsidiary yesterday, asking the public to pick a name for the airline, which is expected to begin operations next year.
Photo: Fang Pin-chao, Taipei Times
"This will be the only carrier that prioritizes Taiwanese demand and habits," TransAsia chairman Vincent Lin (林明昇) told a press conference.
The new subsidiary is to target destinations that are within a five-hour flying range of Taiwan, Lin said, adding that the new carrier is to use Airbus SAS' 320 and 321 series aircraft as its main fleet.
TransAsia received an official notification from the Civil Aeronautics Administration (CAA) earlier this week for the permission to set up the first low-cost carrier in Taiwan.
The company yesterday unveiled a month-long campaign inviting the public to name the new carrier, saying the winner is to be entitled to an exclusive offer of unlimited free TransAsia flights over the next 10 years.
Following the establishment of the new budget brand, Lin said TNA may also start a new round of transformation next year, aiming to provide more diversified options to passengers, with details to be released in the near future.
The company may either buy or lease up to three new airplanes for the airline's operations next year, he added.
China Airlines Ltd (CAL, 中華航空), the nation's largest carrier, is reportedly also mulling a new budget airline, with the final assessment to be finalized by the end of the year.
Comments will be moderated. Keep comments relevant to the article. Remarks containing abusive and obscene language, personal attacks of any kind or promotion will be removed and the user banned. Final decision will be at the discretion of the Taipei Times.