China buyer pushes oldest wine auction to record US$8.5m
The world's oldest charity wine auction, held on behalf of a medieval hospital in the Burgundy region of France, raised a record 6.3 million euros (US$8.5 million), boosted by bidding from China.
China-based businesswoman Yan Hong Cao paid 131,000 euros for the "president's barrel," containing 456 liters of Meursault-Genevrieres Premier Cru, Cuvee Philippe le Bon, at the 153rd edition of the Hospices de Beaune auction.
The annual event, held in collaboration with Christie's International, sells barrels of Burgundy's latest vintage from vineyards owned by the hospital, founded in 1443.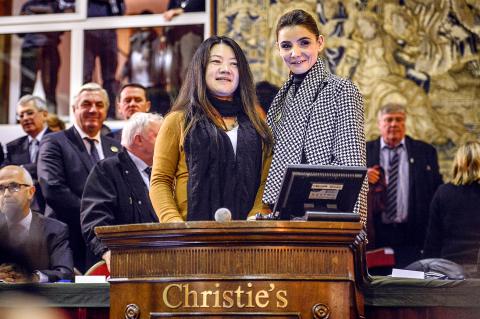 French Savoy Princess Clotilde Courau, right, poses with the buyer of the prestigious "piece du president" (the chairman's item), Yan Hong Cao of China, on Sunday, during the 153th charity wine auction at the Hospices de Beaune, in Beaune, France.
Photo: AFP
This year's vintage is problematic. For the second straight year, vineyards in Burgundy were pounded by hailstorms in the summer, dramatically reducing yields for some winemakers.
The total production of the region was forecast to be 126 million liters, about 20 percent down on a typical year, according to data released this month by the Burgundy Wine Board.
"It is a tricky vintage," said Paul Hammond, a part-director at the London-based merchants IG Wines, in an interview. "Because of the low yields, pricing will be high and the market will take it, even though the quality isn't as good as 2012. The risk is that people will become disenchanted with Burgundy, as they have with First-Growth Bordeaux."
This year's difficult growing season produced a smaller-than-usual auction of 443 barrels, divided between 333 red and 110 white. All of them sold. The total, which includes fees, beat the record of 5.9 million euros achieved last year from a sale of 516 barrels.
This was the first time a Chinese bidder had bought the president's barrel since Christie's had become involved in the sale in 2005.
Christie's had courted Asian bidders with tastings in Singapore, Hong Kong and Beijing.
Bidders from Asia bought 9.5 percent of the auction, the London-based auction house said.
Last year their purchases represented 12 percent of its value.
Comments will be moderated. Keep comments relevant to the article. Remarks containing abusive and obscene language, personal attacks of any kind or promotion will be removed and the user banned. Final decision will be at the discretion of the Taipei Times.