Sony's sales of PlayStation 4 top 1 million
RED HOT: The new PlayStation's 'issues' found by buyers do not seem to be impacting record sales of the console, which is cheaper than Microsoft's Xbox One, due out soon
Sony Corp sold more than 1 million PlayStation 4 consoles in North America during the first 24 hours of sales, though the company said some buyers reported having "issues" with the new gaming device.
Sales between 500,000 and 1 million units would signal a "strong launch," Credit Suisse Tokyo-based analyst Shunsuke Tsuchiya said in a note on Thursday last week, the day before the PS4 went on sale.
The record sales, which top initial results for the predecessor PlayStation 3 in 2006, come as chief executive officer Kazuo Hirai tries to make the video game console the centerpiece of a corporate turnaround strategy.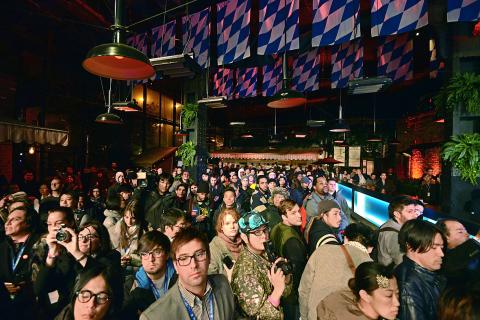 A crowd of people wait for the new Sony PlayStation FOUR at the Standard High Line in New York, New York, USA, 14 November 2013.
Photo: EPA
Pressure has intensified on Hirai after the company last month surprised investors by reporting a second-quarter loss.
Sony is getting a head start on competing for the attention of game players with Microsoft Corp, which is releasing the Xbox One later this week.
The Tokyo-based electronics maker has priced its console at US$399, or US$100 less than the Microsoft machine, as it seeks an edge in the US$93 billion-a-year industry before the Christmas shopping season.
Sony is aware some consumers have reported issues with their PS4 systems and is closely monitoring for additional reports, Tokyo-based spokesman Satoshi Fukuoka said in an e-mail yesterday.
Symptoms associated with the power indicator light issue include the console powering off and no video or audio output to television, the company said.
"We think these are isolated incidents and represent a very small percentage of total units shipped to consumers to date," Fukuoka said, declining to elaborate on what the problems were.
The company is still making and shipping the consoles, he said.
Sony will have adequate supplies of the PS4 through Christmas and stands by earlier projections for sales of 5 million units by March, Jack Tretton, president and chief executive officer of the company's US computer entertainment division, said on Nov. 11.
The device goes on sale in Europe and Latin America on Nov. 29.
Sony's previous version of the console, the PS3, sold 197,000 consoles in the first month after it was released in the US on Nov. 17, 2006, said NPD Group, which tracked sales of video games and consoles at the time.
Sony shares rose 0.9 percent to ¥1,862 at the close in Tokyo trading. The benchmark TOPIX gained 0.2 percent.
Comments will be moderated. Keep comments relevant to the article. Remarks containing abusive and obscene language, personal attacks of any kind or promotion will be removed and the user banned. Final decision will be at the discretion of the Taipei Times.