Art sales soar on vanity, fear and easy money
A new class of super-rich collectors from Asia, the Middle East and Russia are snapping up works of art not only to show off their wealth, but also as a safe-haven investment amid global uncertainty
Emerging-market billionaires, driven by vanity, easy money from the world's central banks, and a quest for safe investments, are taking the contemporary art market to new heights.
Art collectors made news for a second straight night on Wednesday, as Sotheby's held the biggest auction in its history, led by the record-setting US$105 million paid for Andy Warhol's Silver Car Crash (Double Disaster).
The previous day, hedge fund managers, oil princes and oligarchs were bidding by telephone at Christie's when the auction house sold Francis Bacon's Three Studies of Lucian Freud for a record US$142.4 million, in what was seen as a test of the global art market's health.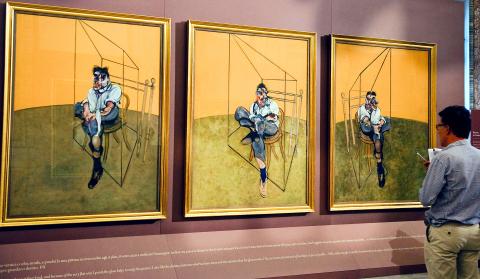 A journalist looks at Francis Bacon's paintings Three Studies of Lucian Freud during the opening of the exhibition "Caravaggio and Bacon" at the Borghese Gallery in Rome on Sept. 30.
Photo: AFP
It passed. Among the reasons, art consultants and hedge fund managers say, is the rise of a class of super-wealthy collectors, many of them from Asia, the Middle East and Russia — zones bolstered by years of booming commodities prices.
"While we are seeing big numbers for many lots, there is only a small number of buyers and it is not dominated by American financiers," said Abigail Asher, a partner at art consultants Guggenheim, Asher, Associates Inc.
Sotheby's and Christie's buzzed with energy, art industry insiders said, as people realized just how willing bidders were to pay staggering sums for the artworks on auction.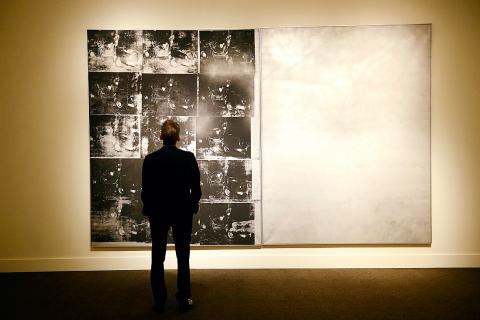 A man looks at Andy Warhol's Silver Car Crash (Double Disaster) at a press preview of a Sotheby's auction of contemporary art in New York on Nov. 1.
Photo: AFP
"People are clearly not done emptying their pockets," said Elizabeth Jacoby, who runs BSJ Fine Art with her mother, Beverly.
Jeffrey Gundlach, chief executive officer and chief investment officer at investment management firm DoubleLine and an avid art collector, said he has never seen a market like this one.
He said the high-end art market is being driven by "a tiny fraction of the population in certain emerging economies," where people "don't trust their currency and don't trust the stability" of their economies.
"There is so much new wealth being created right now, and it will only take a handful of new billionaires minted in China, for example, to significantly impact this market," said one hedge fund manager who follows the art business closely, but who asked not to be identified.
Emerging-market billionaires will have to fight old world wealth. Super-wealthy art buyers in the West may have some of the same economic fears, amid uncertainty over when and how quickly central banks will unwind years of easy money policies imposed after the 2008 global financial crisis.
While low inflation reigns in Europe and the US alongside lackluster economic growth, many economists and others fear that years of "quantitative easing" by the US Federal Reserve, in which the Fed has bought bonds to help stimulate the economy, will eventually trigger rapid price rises. And if not, the end of that easy money could trigger losses in conventional stock and bond markets.
The prices for paintings held steady during the so-called Great Recession, as demand from collectors kept coming from many corners of the world.
"Thanks to quantitative easing, there is a lot of liquidity floating around, and we are seeing a trend where investors are moving out of some asset classes like bonds and into commercial real estate and art," said Charles Gradante, managing principal at financial advisory firm Hennessee Group, which invests with hedge funds.
Still, the demand for contemporary art as a safe haven investment has raised eyebrows among those who view its value as unproven when compared with the classics.
"Today's contemporary art market is broader than it used to be, and the pool of would-be acquirers is certainly bigger and richer than ever before. But the values? We say they have never been more precarious," Jim Grant said in his Grant's Interest Rate Observer newsletter in September.
In another record-breaking auction starring the super-rich, the "Pink Star," a flawless pink diamond the size of a plum, sold for 76.3 million Swiss francs (US$83.02 million) in Geneva on Wednesday, a high for a gemstone at auction, Sotheby's said.
For the world's wealthiest, art is one of the more elegant in a small pool of safe haven investment options: It is tangible, transportable, and resistant to inflation and conventional market turmoil.
"There is a group of super-rich. They buy super yachts, super private planes... The prices of artwork reflects this. The difference in real estate and art is they are seen as an alternative asset ... whereas the others are toys," said a private art dealer who attended Tuesday's auction, but who did not want to be named.
Gradante said the appeal of art may even be taking some of the froth out of the market for the iconic safe haven, gold, "which has long been an inflation hedge, but can't be enjoyed by owners the way a painting can be."
Hedge fund managers have long had a love affair with the art world, in part, because it is fun to show off.
John Paulson's office is decorated with works by Alexander Calder, Julian Robertson owns some Picassos, and Steven Cohen displays a Jeff Koons Balloon Dog sculpture at his home in Connecticut.
Some investors who like art are going a step further — buying auction houses.
Billionaire hedge fund manager Daniel Loeb's Third Point LLC and Mick McGuire's Marcato Capital Management have acquired stakes in Sotheby's and have been pushing the centuries-old auction house — Sotheby's, now based in New York, traces its roots to 18th-century London — to improve its balance sheet and operations by adapting to art buyers' changing tastes and becoming more active in private sales.
Since these investors began pressuring for change in June, Sotheby's stock price has climbed roughly 20 percent. Loeb was at Christie's on Tuesday, but his representative did not say whether he was buying or selling.
Comments will be moderated. Keep comments relevant to the article. Remarks containing abusive and obscene language, personal attacks of any kind or promotion will be removed and the user banned. Final decision will be at the discretion of the Taipei Times.