Bombs don't stop business boom in Benghazi
Shop assistants showcase elegant Italian menswear, next door a fast-food restaurant buzzes with customers and nearby a German sportswear shop hawks the latest high-end running shoes.
The scene could be downtown New York or Milan if not for the occasional gun battles, car bombs and bearded Islamist fighters flourishing rifles and fundamentalist beliefs.
In Benghazi, Libya's eastern metropolis, the militias that plague much of the country flourish alongside a boom in sales of foreign brands catering to the city's burgeoning rich.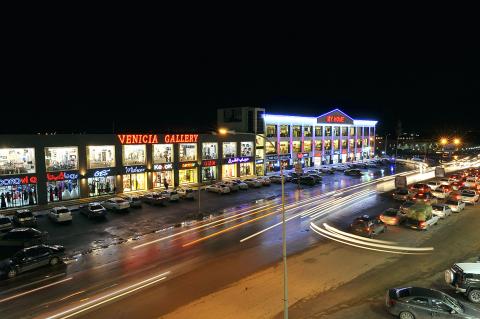 Retail outlets line Venice Street in Benghazi, Libya, on Nov. 7.
Photo: Reuters
Libya's second-largest city stands for almost everything wrong with the North African country and its fragile central government since the 2011 ouster of Libyan leader Muammar Qaddafi.
The Tripoli government has little say in the rundown port where militias and Islamists set up private checkpoints, often beneath black al-Qaeda flags. The US ambassador was killed here during an Islamist assault on the US consulate in September last year.
Benghazi sits at the heart of an autonomy movement resisting central government authority and taking over eastern ports to choke off nearly half of the OPEC nation's oil shipments in a push for more independence.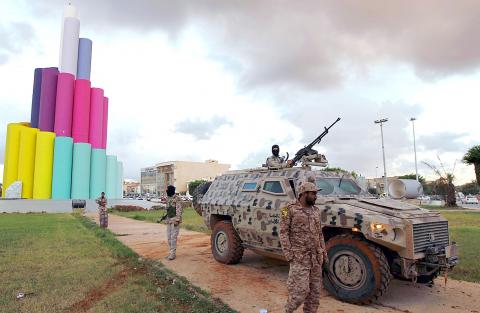 Security personnel stand by an armored personnel carrier as they patrol the streets of Benghazi, Libya, on Thursday.
Photo: AFP
However, that lawlessness has not hindered the arrival of expensive outlets and a three-floor mall. Venice Street, as it is called by locals, was once a dull backstreet. A year ago, luxury retailers turned it into a bustling commercial strip.
"People have more money than under Qaddafi so business is excellent," said Mohammed Lara, chief executive of a perfume retailer which has two Benghazi shops and plans another.
Customers are hungry for luxury goods because shopping under Qaddafi was frustrated by state controls and sanctions, he said. State markets sold anything from Turkish-made chocolate to Chinese socks to cover basic needs, but quality goods were out of reach for most on state salaries.
Despite suffering from anarchy and poor public services, Libyans are now better off financially. Qaddafi increased salaries for the public sector just before the NATO-backed uprising in a futile bid to ease dissent.
The new government, struggling to assert control over a vast country still filled with arms, has kept the salary increase and handed out more benefits, and not just for civil servants.
This year it raised salaries for oil workers by 67 percent in an apparent attempt to end protests at oil ports.
Half of the US$54 billion national budget goes to state salaries and subsidies for anything from bread to gasoline, healthcare and plane tickets to keep people happy.
"I am upgrading my fashion shops from Chinese textile to European brands as I see demand for quality products," said Ghanem Sheikhi, who is partner in a shopping mall and owner of fashion, computer game entertainment and fast-food shops.
One sector that is booming is travel. Local air traffic has risen to 1.8 million passengers annually, compared with about 800,000 in the Qaddafi era, said Qais al-Baksheshe, head of an organization helping local authorities attract foreign firms.
Benghazi's tiny airport, with two ramshackle buildings dating back to before Qaddafi, is already served by carriers such as Turkish Airways or Egyptair.
DECADES OF NEGLECT
Benghazi, a city with about 1 million residents, had been neglected for decades by Qaddafi, who held a grudge against the eastern region known as Cyrenaica, the cradle of the uprising.
Despite the east sitting on 60 percent of Libya's oil wealth, buildings in Benghazi are dilapidated. Many houses built by Italian colonial rulers still show damage from air strikes during World War II when the city changed hands between British and German troops.
Tripoli's government, hampered by infighting and militias refusing to disarm, has done little to improve public services. Aged hospitals, schools and universities have yet to be refurbished. At night, Venice Street is lit by sparkling shop fronts, not street lamps.
That has fueled calls for more autonomy from Tripoli under a federal system to share wealth and power under post-colonial divisions of the Cyrenaica region to the east, southern Fezzan and Tripolitania to the west.
A Cyrenaica movement has already grown, declaring itself independent and set up its own administration and oil firm. Protesters have controlled oil ports in the east for months. It is still uncertain how much autonomy they can really exercise.
"We have many problems with the government in Tripoli," Baksheshe said. "For any project we need to go to Tripoli."
If there is development in Benghazi, it comes from the private sector such as Chinese firms planning 20,000 housing units. Four large building projects and eight tower blocks are under way, and a Turkish firm plans an American University campus like in Cairo or Beirut.
However, the biggest obstacle in Benghazi remains the lack of security. Car hijackings are widespread, and assassinations of army or police officers are commonplace.
LAWLESSNESS
New luxury also attracts unwanted attention. When an armed gang attacked one perfume shop, some locals blame radical Islamists who tend to consider perfume or makeup as haram, or forbidden, under their fundamentalist interpretation of Islam.
"You can have growth for this, and the next, maybe three years, but what then?" Lara said, sitting in his office in a high-rise tower in central Benghazi.
Baksheshe's institute is trying to persuade investors to come by guaranteeing them protection.
"We had a Turkish firm ... which was afraid to come and demanded security. They've been here for three months and everything is going well," he said.
Even Islamists publicly welcome the shop bonanza, and say they reject violence. They said the Islamists would always respect others' beliefs, but hint they can show who is in charge when they are unhappy with Benghazi's direction.
"We only have a problem with violations of Islamic law like interest payments, alcohol or immoral places," said Ahmed Zlietny, spokesman for a local Islamic group campaigning for the introduction of Shariah law. "If we really wanted to impose Islamic law on Libyans we could do so by force."
Comments will be moderated. Keep comments relevant to the article. Remarks containing abusive and obscene language, personal attacks of any kind or promotion will be removed and the user banned. Final decision will be at the discretion of the Taipei Times.