Low wages are flip-side to Germany's 'miracle'
LOW-WAGE COUNTRY: Germany has the highest proportion of low-wage jobs in the EU after the UK and Hungary, and its wage gap is the highest in the OECD
German Chancellor Angela Merkel often boasts during the campaign for Sunday's elections that Germany has one of Europe's lowest jobless rates — at about 6.8 percent. However, it comes at a price.
As many as 3 million people in Europe's top economy earn less than 6 euros (US$7.90) an hour, meaning Germany has one of the biggest shares of low wages in Europe, a fact that Merkel's critics have jumped on in the campaign.
"We've become a country of low wages," sighs charity worker Renate Stark, who every day confronts the struggle of workers paid too little to make ends meet, despite Germany's booming economy.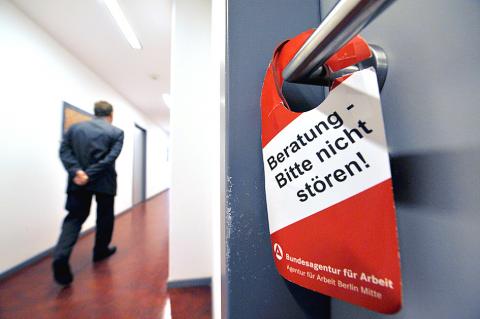 A sign reads: "Counseling underway — Please do not disturb" on the door to an interview room in a branch of Germany's federal employment agency, the Bundesagentur fuer Arbeit, in Berlin, on on July 15, 2008.
Photo: AFP
From pizza deliverers earning an hourly 6 euros, to young journalists on less than 750 euros a month, the 55-year old social assistant for the Catholic Caritas organization in Berlin can reel off many such examples.
One man Stark helps has been working as a packer at an online sales company in the German capital for four years on 3.50 euros an hour and cannot find another job, despite dozens of applications.
Like hundreds of others, Stark said, he mostly scrapes by thanks to certain welfare benefits, but when that is not enough, such as "when the washing machine breaks down or an electricity bill arrives unexpectedly," he turns to charities.
"I experience it here daily," she said. "I began this job 21 years ago and it wasn't like that. The situation has become really serious in the past five or six years. It's very clear."
To be sure, many of those employed by Germany's mighty industrial giants, for example in the automobile sector, enjoy enviable conditions. However, unlike most of its European partners, Germany has no national minimum wage.
According to figures compiled by the IAQ Institute for Work, Skills and Training, more than one in five employees, or nearly 7 million people, earned less than 8.50 euros per hour in 2011.
By comparison, the minimum wage in France is just under 9.50 euros per hour.
Furthermore, the boom in low-wage jobs has been accompanied by a corresponding rise in "precarious" work, such as part-time or temporary work.
There are also so-called "mini-jobs," where employees are paid a maximum of 450 euros a month and are exempt from paying social or welfare contributions.
Nearly 8 million people were in such low-pay or mini-job forms of employment last year, almost twice as many as 20 years ago, according to data by the federal statistics office Destatis.
"Germany is the EU country where the proportion of low-wage jobs is highest behind Hungary and the United Kingdom," Organisation for Economic Co-operation and Development (OECD) German expert Andreas Kappeler said, pointing to a 2010 study.
"Between 1985 and 2008, the wage gap between high and low pay has widened in Germany much faster than in the other OECD countries," he said.
Women and all Germans in the much poorer regions have been the most affected by rising impoverishment since sweeping reforms were pushed through under the former Social Democrat (SPD) German chancellor Gerhard Schroeder, between 2003 and 2005. SPD chancellor candidate Peer Steinbrueck has acknowledged the flip-side to these policies, known as Agenda 2010, whose aim was to make the economy more competitive, slash welfare payments and make it easier to hire and fire employees.
Economists attribute Germany's success in bringing down its jobless total from more than 5 million in 2005 to these reforms. Steinbrueck has promised to introduce a general minimum wage of 8.50 euros as one of his first moves if he is elected chancellor.
For her part, Merkel has said she wants to compel unions and employers to agree minimum wage deals by sector and region.
The process has already begun. Giant service sector union Verdi, for example, recently negotiated a minimum wage of 8.50 euros for hairdressers by 2015, the 13th such sector-wide agreement.
While Merkel occasionally denounces some "unacceptable" salaries, she has rejected a nationwide minimum wage which, she sees as the root of Europe's high levels of unemployment.
Comments will be moderated. Keep comments relevant to the article. Remarks containing abusive and obscene language, personal attacks of any kind or promotion will be removed and the user banned. Final decision will be at the discretion of the Taipei Times.