Abbott recalled in China over botulism
DAIRY DISASTER: Dairy firm Fonterra's products were recalled across Asia after an ingredient used in baby milk and soft drinks was found to be tainted with the bacteria
China has ordered US pharmaceutical company Abbott Laboratories to recall some products in the country over a botulism scare centered on New Zealand dairy giant Fonterra Co-operative Group Ltd, authorities said yesterday.
Two batches of Abbott's baby formula "risked having been contaminated by Clostridium botulinum," the Chinese General Administration of Quality Supervision, Inspection and Quarantine (AQSIQ) said in a statement.
Clostridium botulinum is a bacteria that can cause botulism, an infection that can lead to paralysis and death.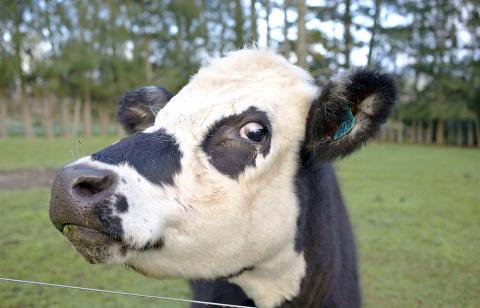 A cow yesterday stands near a fence at a pastoral farm nearby Auckland, New Zealand.
Photo: Reuters
"The AQSIQ has required Abbott ... to recall the relevant products to protect the health of Chinese consumers," the statement said.
The formula, intended for children aged between one and three, was produced by Fonterra on May 2 for a Shanghai subsidiary of Abbott, it added.
Fonterra revealed over the weekend that a whey product used to make baby milk and soft drinks had been contaminated with the bacteria.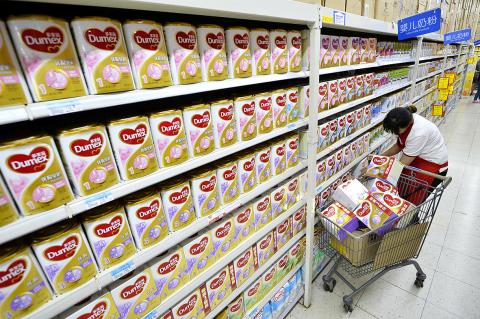 A sales assistant takes down recalled Dumex milk powder products from shelves at a supermarket in Taiyuan, in China's Shanxi Province, on Monday.
Photo: Reuters
The company has blamed the contamination on a dirty pipe at a North Island processing plant.
Abbott said in a statement that none of its products sold in China used Fonterra's contaminated whey product, but that the two batches of formula involved were packaged on a Fonterra production line that had residues of the tainted raw material.
"Although the two batches ... do not expose any [consumer to] heath risks, we have decided to recall the products and destroy them as a precaution for the maximum benefit of customers," it said.
The batches comprised a total of 7,181 boxes of baby milk tins, but only 112 boxes had been sold and the remainder had already been sealed, it added.
The scare has seen restrictions imposed on Fonterra products imported into China, while Dumex and Karicare, both subsidiaries of French food giant Groupe Danone SA, issued recalls in China, Hong Kong, Malaysia, Singapore, Thailand and New Zealand.
Aside from Dumex, the other two companies affected in China, Hangzhou Wahaha (娃哈哈) and Coca-Cola Co's Chinese subsidiary, who used the whey in soft drinks, both said their products were safe, but that they would recall them as a precaution.
Separately, New Zealand seized control of Fonterra's response to the contamination scare yesterday after criticizing the dairy firm's handling of the crisis, which the government said has tainted the nation's "clean, green" image.
New Zealand Minister of Economic Development Stephen Joyce said officials had been sent to Fonterra's premises in New Zealand and Australia to ensure that the company provided accurate information about the potentially fatal bacteria.
Joyce acknowledged it was unusual for Wellington to take such a hands-on approach with a private company, but said global consumers needed to be confident about New Zealand's dairy industry, which accounts for one-quarter of the country's exports.
He said data that Fonterra initially provided about the presence of the Clostridium botulinum bacteria had proved incorrect, creating confusion.
"It's certainly pretty frustrating, that's probably the most generous term I could use," Joyce told Radio New Zealand. "I'd have expected this information to have been available fairly quickly."
He said that about 90 percent of the contaminated product had been found and the New Zealand Ministry of Primary Industry (MPI) hoped to track down the rest by today in the afternoon.
Joyce said that Fonterra had raised no objections to government officials effectively sidelining the company from crisis management response.
"Frankly, Fonterra has welcomed it because it will speed up the MPI checking," he said. "It's important that MPI, as the regulator, has to have the confidence, because the rest of the world's regulators are relying on MPI."
Fonterra is the world's largest dairy cooperative and New Zealand's biggest company, accounting for 89 percent of the country's milk production — 15.4 billion liters — in 2011 and recording turnover of US$15.7 billion last year.
Comments will be moderated. Keep comments relevant to the article. Remarks containing abusive and obscene language, personal attacks of any kind or promotion will be removed and the user banned. Final decision will be at the discretion of the Taipei Times.