EU states nix solar import duties
STERN WARNING: China said it would retaliate if it has to pay duties on its solar imports, leading to at least 14 EU member states opposing the plan
A majority of EU governments oppose a plan to impose hefty duties on solar panel imports from China, a survey of member states showed on Monday, undermining efforts by Brussels to pressure Beijing over its trade practices.
The European Commission, the EU's executive, accuses Chinese firms of selling solar panels at below cost in Europe — a practice known as "dumping" — and plans to impose duties, making it far harder for China to gain market share.
The duties, averaging 47 percent, will come into force from June 6 for a trial period and could be withdrawn if both sides reach a negotiated settlement.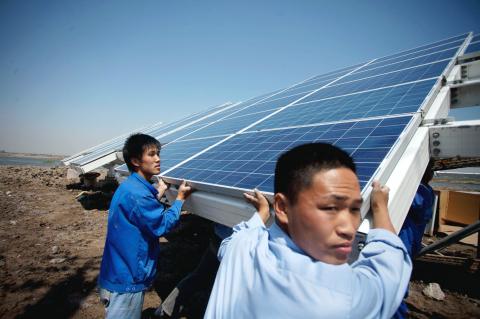 Workers install solar panels near Tianjin, China, on June 11 last year. The European Commission warned on Monday against undue Chinese influence as Germany led growing opposition among EU member states to a planned punitive levy on imports of solar panels from China.
Photo: AFP
It is the largest trade case the commission has undertaken, with about 21 billion euros (US$27.1 billion) of China-made solar panels sold in the EU.
The duties are being proposed by the EU's trade commissioner, Belgian lawyer Karel de Gucht, who met with Chinese Vice Minister of Commerce Zhong Shan (鍾山) for an informal meeting in Brussels on Monday.
The Chinese side described the meetings as "constructive" and said the pair discussed solar duties, as well as an EU threat to open an investigation into mobile telecom equipment makers Huawei (華為) and ZTE (中興).
However, Zhong said that either EU move would lead to a definitive Chinese response.
"Such practices of trade protectionism are not acceptable to China," a spokeswoman for the Chinese mission to the EU said in a statement, and would "seriously sour the climate on bilateral trade and economic engagement."
"The Chinese government would not sit on the sidelines, but would rather take necessary steps to defend its national interest" if the EU went ahead, the statement said.
The fear of Chinese reprisal and potential loss of business has led Germany, Britain and the Netherlands to be among at least 14 member states to oppose the sanctions, diplomats said.
The commission said China was pressuring some EU countries to oppose the duties.
"Commissioner De Gucht ... made it very clear to the vice minister that he was aware of the pressure being exerted by China on a number of EU member states, which explains why they are positioning themselves as they are in their advisory positions towards the European Commission," the commission said in a statement.
The EU's 27 countries had until Friday last week to submit a formal, written response to De Gucht's plans. While the trade commissioner would still have the right to impose the duties, doing so in the face of member states' opposition would be hard.
The commission statement said De Gucht told China's vice minister he wanted "to examine the possibility of a negotiated settlement in partnership with the United States should this become necessary."
Provisional duties will more than likely still go ahead on June 6, once they are published in the EU's official journal, officials say, but the pressure to roll them back before they become permanent in December will be intense.
The split underlines the depth of division in the EU over how to deal with China, a critical market for many EU exporters and the region's second-biggest trading partner overall.
Reuters spoke to 21 of the EU's 27 countries and confirmed that 15 opposed the duties, while six supported them.
The other six either declined to say or were unreachable.
France and Italy are leading a group of countries that say De Gucht is right to go ahead with sanctions, arguing that China's rapid rise in solar panel output to more than the world's entire demand could not have happened without illegal state support.
Chinese companies have captured more than 80 percent of the European market from almost zero a few years ago.
De Gucht met China's deputy commerce minister for informal talks in Brussels on Monday, a day after Chinese Premier Li Keqiang (李克強) and German Chancellor Angela Merkel, meeting in Berlin, called for an end to the dispute, as well as another conflict over Chinese telecom companies accused of dumping in Europe.
Germany initially supported De Gucht's plans for duties and it was a German company, Solar World, that first raised the complaint against the Chinese.
However, rather than punitive measures, Merkel now appears to favor a negotiated solution, wary of the potential impact on German exporters if China were to take retaliatory steps.
"There is no need for more sanction measures," German Minister of the Economy Philipp Roesler told a news conference on Monday after talks with Li.
Although De Gucht says he had no intention of damaging European business interests in China, he wants to show Beijing that the commission is serious about preventing dumping and that China must play by international trade rules.
France shares that view.
"We want to see a balanced relationship between China and the European Union," French Minister of Industry Arnaud Montebourg said. "Countries that use protectionism, and China is one of them, should accept reciprocal rules."
Comments will be moderated. Keep comments relevant to the article. Remarks containing abusive and obscene language, personal attacks of any kind or promotion will be removed and the user banned. Final decision will be at the discretion of the Taipei Times.