Asian stocks rise after ECB cuts rates
READY TO ACT: On Thursday, the European Central Bank cut its benchmark interest rate by a quarter-point to 0.5 percent and said it was ready to ease further if needed
Asian shares rose yesterday on hopes of a stronger global economic recovery after the European Central Bank (ECB) cut interest rates and held out the possibility of further easing while the euro remained in the doldrums.
Chinese shares outperformed their peers in the region after a report in state media spurred hopes of greater foreign involvement in Chinese markets.
Trading for the rest of the region was subdued with Japan closed for holidays.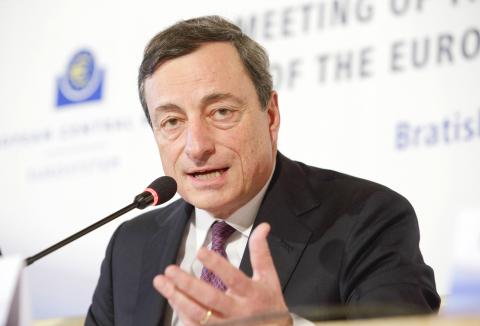 European Central Bank President Mario Draghi speaks during a news conference in Bratislava, Slovakia, on Thursday.
Photo: Bloomberg
MSCI's broadest index of Asia-Pacific shares outside Japan rose 0.2 percent, on track to end the week up just over 1 percent.
"The ECB's action comes as a sign governments are determined to tackle the economic issues. This points to further stimulus measures and it is positive for sentiment," Mirae Asset Securities analyst Lee Jae-hun said.
Chinese stocks advanced about 2 percent, while Hong Kong's Hang Seng index climbed 0.2 percent.
The official Shanghai Securities News reported yesterday that new technical regulations rolled out by the Chinese central bank late on Thursday suggest that renminbi qualified foreign institutional investors quota approvals may be resumed after a two-month suspension.
Elsewhere in Asia, Taipei was flat, adding 6.52 points to 8,135.03; Seoul closed 0.43 percent, or 8.50 points, higher at 1,965.71, Sydney ended flat, losing 0.5 points, at 5,129.5; while Wellington fell 0.66 percent, or 30.14 points, to 4,544.32.
Bucking the region's positive trend, Indian stocks fell as the Reserve Bank of India (RBI) warned there is little room to ease further after delivering an expected quarter point cut. The country's main share index shed 0.2 percent.
Yesterday, India's central bank cut the benchmark repo rate, at which it lends to commercial banks, by 25 basis points to 7.25 percent in the third such move this year, while the cash reserve ratio — the percentage of deposits banks must keep with the central bank — was kept unchanged.
Explaining the rate cut, RBI Governor Duvvuri Subbarao said that "growth had decelerated continuously," forecasting expansion of 5.7 percent in the new fiscal year — far below the government's estimate of between 6 percent and 6.5 percent.
However, he warned that there were "significant risks" to inflation in the near-term and said that "monetary policy cannot afford to lower its guard against the possibility of a resurgence of inflation pressures."
The RBI's decision to cut rates had been forecast by economists and business leaders, who have been calling for lower borrowing costs to help the economy.
It also came after the move by the ECB, which on Thursday cut its main benchmark interest rate by a quarter-point to a record 0.5 percent and ECB President Mario Draghi said the bank was ready to ease further if needed.
"Our monetary policy stance will remain accommodative for as long as needed. We will look at all incoming data and stand ready to act if needed," Draghi told a news conference on Thursday.
The euro recovered from initial losses and was trading at US$1.3073 in afternoon Asian hours, from US$1.3063 in New York on late Thursday. The single currency was also buying ¥128.12, from ¥127.93.
The dollar rose to ¥97.99 in afternoon trade from ¥97.93.
"The rate cut had been priced by traders prior to the announcement by the ECB, so we could be seeing a push back up with the euro," CMC Markets head of sales trading Jason Hughes said.
"The talk of negative interest rates on deposits and that the ECB will consider such action is still relatively very vague and at an early stage, so it [market] is not really factoring in yet," he said.
Comments will be moderated. Keep comments relevant to the article. Remarks containing abusive and obscene language, personal attacks of any kind or promotion will be removed and the user banned. Final decision will be at the discretion of the Taipei Times.