Asustek, Toyota introduce GPS units for tourists
PC vendor Asustek Computer Inc (華碩) and its subsidiary Unimax Computer (宇碩) yesterday introduced Android-powered GPS units in Toyota vehicles in collaboration with Hotai Motor Corp (和泰汽車) for tourists in Nantou County.
Running on Nvidia Corp's Tegra 3 chip, the 7-inch GPS units integrate vehicles' embedded multimedia devices and Asustek's cloud-computing automobile guidance systems that operate automatically when the cars are started.
A total of 35 Toyota energy-saving vehicles, including 19 electric cars and 16 Prius hybrids, are available from tomorrow for tourists traveling around Sun Moon Lake (日月潭) to rent from local branches of Hotai Leasing Corp (和運租車).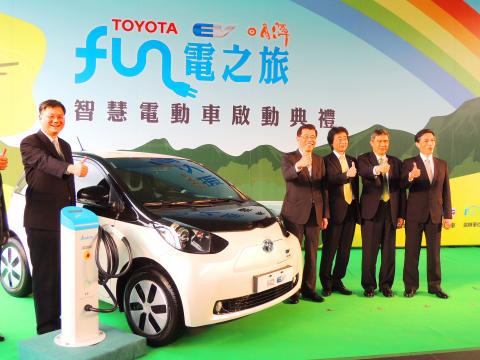 Company executives pose yesterday with an all-electric Toyota iQ car, one of a fleet of 35 electric and hybrid cars that will be available for rent by visitors to Sun Moon Lake in Nantou County starting tomorrow.
Photo: Yang Ya-min, Taipei Times
"Asustek aims to develop products not only related to 3C [computers, communications and consumer electronics], but also 5C, which includes cars and cloud computing technologies," Kent Chien (簡孝堅), general manager of the multimedia business unit at Asustek, said on the sidelines of the launch ceremony.
"As energy-efficient products become more popular in the market, we foresee integration between products, services and technologies will generate a certain amount of market value in the future. There is huge room for the vehicle market to fulfill its growth potential," he added.
Asustek said the new products are similar to the company's smaller-sized tablets, but installed in vehicles. The company said it expects to receive orders for the GPS units by the end of the year, if the market reaction is better than forecast.
The GPS units are designed to function like tourist guides, Chien said, adding that the products display residual battery life, the location of charging stations, information about famous sites in the area and broadcast Internet radio programs from all over the world.
To provide tourists with safe and convenient battery charging services, Delta Electronics Inc (台達電), the nation's largest power supply unit maker, yesterday said at the ceremony that it has installed 32 7-kilowatt alternating-current and 50-kilowatt direct-current charging machines at 28 charging stations around Sun Moon Lake.
Comments will be moderated. Keep comments relevant to the article. Remarks containing abusive and obscene language, personal attacks of any kind or promotion will be removed and the user banned. Final decision will be at the discretion of the Taipei Times.