Google to launch Internet-connected glasses this week
Google Inc is to start distributing its Internet-connected glasses this week, which are seen as the next breakthrough in mobile computing.
Google has picked 8,000 people in the US who entered a contest. The winners will have to pay US$1,500 apiece for a test version of Google Glass. The company also took an unspecified number of orders from computer programmers.
Google on Wednesday said it started making the glasses available onTuesday, though it may take weeks for recipients to get them.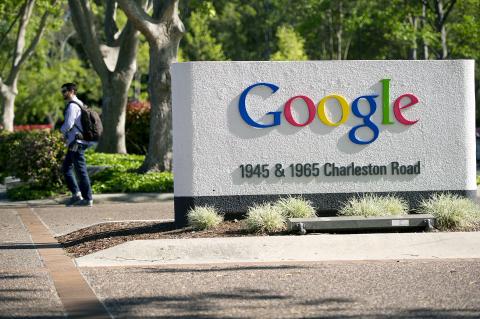 A Google Inc sign advertises the company's headquarters in Mountain View, California, on Tuesday.
Photo: Bloomberg
The excitement stems from a belief that Google Glass is at the forefront of a new wave of technology known as "wearable computing." Reports say Google, Apple Inc and others also are working on Internet-connected wristwatches.
The company has released technical specifications for Glass, encouraging software developers to create applications for the Web-enabled spectacles as they get closer to mainstream sales.
Google said Glass devices will feature about a day of battery life, a high-resolution display and a five megapixel camera, according to a statement on its Web site. The digital eyeglasses feature voice-recognition technology, avoiding the need for keyboards.
"Google Glass has a great opportunity to make a solid first impression," Gartner Inc analyst Brian Blau said.
The ability of Google Glass to respond to voice commands opens up a big opportunity for developers and hardware partners to create new software and services, Google chairman Eric Schmidt said at an AllThingsD conference in New York on Tuesday.
"I always thought I'd be typing for the rest of my life," he said.
Google Glass, which is in use by a limited number of early adopters, will be available later this year and cost less than US$1,500, Google co-founder Sergey Brin said at an event earlier this year. In his pitch for the devices, Brin, described smartphones as "emasculating."
Google plans to make digital eyeglasses in the US with Taiwan's Foxconn Technology Group (富士康科技集團), a source said last month.
Comments will be moderated. Keep comments relevant to the article. Remarks containing abusive and obscene language, personal attacks of any kind or promotion will be removed and the user banned. Final decision will be at the discretion of the Taipei Times.