Softbank shares fall on rival bid
BRINGING SYNERGIES: DISH Network said its bid for Sprint would create a unique firm that could deliver an integrated bundle of video, television, Internet and voice services
Softbank Corp shares fell more than 6 percent yesterday after a US satellite-television provider trumped the Japanese mobile operator's bid to acquire Sprint Nextel Corp.
Softbank shares dropped 6.83 percent to ¥4,365 in Tokyo trade after DISH Network Corp on Monday launched an unsolicited US$25.5 billion bid against Softbank's offer to acquire 70 percent of Sprint for US$20 billion in October last year.
DISH said it was offering to buy Sprint, the third-largest US wireless carrier, for US$17.3 billion in cash and US$8.2 billion in stock, trying to derail Softbank's attempt to acquire the wireless carrier.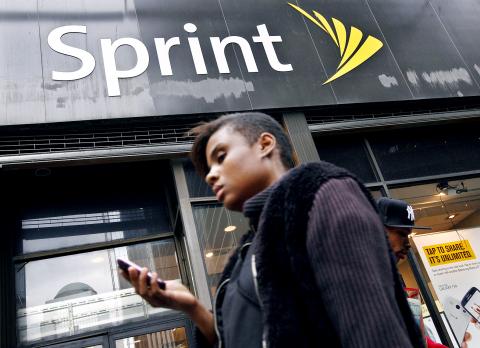 A woman walks past a Sprint store in New York on Oct. 15 last year.
Photo: Reuters
Softbank's attempt to get itself a chunk of the US market looks like it is going to get a lot more expensive, Hideyuki Ishiguro, senior strategist at investment strategy at Okasan Securities, told Dow Jones Newswires.
"It's difficult to imagine that Softbank will not raise its Sprint bid, since the only growth is overseas," he said.
"Under the new Bank of Japan policy, capital is cheaper than ever and banks are willing to lend," he said, referring to massive monetary easing steps the Japanese central bank is taking. "A bidding war might be likely, but Softbank is equipped to win."
The purchase by Softbank, if it goes through, would mark the biggest overseas acquisition by a Japanese firm.
Softbank's planned deal still needs a green light from US regulators looking at possible national security conflicts.
DISH Network chairman Charlie Ergen said in a statement that its proposal "clearly presents Sprint shareholders with a superior alternative to the pending Softbank proposal."
"Sprint shareholders will benefit from a higher price with more cash, while also creating the opportunity to participate more meaningfully in a combined DISH/Sprint with a significantly-enhanced strategic position and substantial synergies that are not attainable through the pending Softbank proposal," he said.
DISH said taking over Sprint would create a unique company that could deliver a fully integrated, nationwide bundle of video, television, broadband Internet and voice services in the US, whether in the home or on the move.
"DISH brings some syngeries; Softbank brings money," Silicon Valley analyst Rob Enderle said of the rival bidders for Sprint Nextel.
Combining resources with DISH would put Sprint Nextel in a stronger position to compete with titan AT&T, but using heavy debt for the deal would bring risk into the mix, Enderle said.
Softbank said yesterday it still expects its bid to acquire Sprint Nextel to succeed on schedule in July, despite the higher counteroffer.
"Softbank believes that the agreed terms of our transaction with Sprint offer Sprint shareholders superior short and long-term benefits to DISH's highly conditional preliminary proposal," the Japanese firm said in a statement.
In New York on Monday, DISH Network shares fell 2.3 percent, while Sprint shares jumped 13.5 percent.
Comments will be moderated. Keep comments relevant to the article. Remarks containing abusive and obscene language, personal attacks of any kind or promotion will be removed and the user banned. Final decision will be at the discretion of the Taipei Times.