High hopes for Japan's wine in the Old World
Japan's wine industry may be young, but its Koshu grapes date back a thousand years and produce a unique white wine
A thousand years ago, a vine that had traveled from the Caspian Sea coast along Asia's Silk Road arrived in Japan, where its fruit was heralded as having unique medicinal purposes.
Now the "Koshu grape" fills terraces on the foothills of Mount Fuji, where those in the know say it makes a pretty decent and uniquely Japanese white wine that industry leaders say they intend to export to the West.
"The Koshu grape is well suited to the climate," winemaker Naoki Watanabe said. "Its skin is thicker than other varieties to better withstand the heavy rainfall we get here."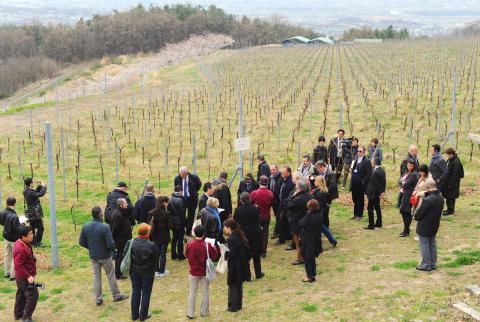 French sommeliers visit the chardonnay vineyard at Suntory's Tomi no oka Winery in Kai City, Yamanashi Prefecture, Japan, on March 27, as part of a winery tour of the 14th Association de la Sommellerie Internationale Contest of the Best Sommelier of the World.
Photo: AFP
About 95 percent of the 480 hectares of Koshu vineyards lie in Yamanashi Prefecture in towns like Kai, a picturesque place that, on a clear day, enjoys views of the snow-capped Mount Fuji.
Koshu has evolved to thrive in the volcanic soil of this region, where heavy rainfall is balanced out by plentiful sunshine — about 2,250 hours a year. France's Bordeaux region gets just more than 2,000.
Growers also benefit from the wide gap between daytime high temperatures and night-time lows, a difference that concentrates the naturally occurring sugars in the fruit.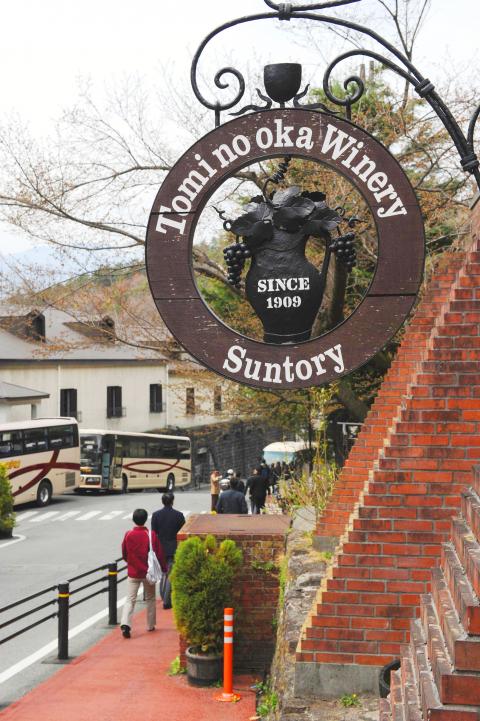 Visitors walk at Suntory's Tomi no oka Winery in Kai City, Yamanashi Prefecture, Japan, on March 27.
Photo: AFP
The grapes are picked in October or early November — relatively late by European standards — before being pressed into a fruity white wine, which connoisseurs say complements local foods.
"In the mouth it is fresh at first ... with a nice balance between acidity and natural sugar. To finish it has a little astringency that makes it special," Watanabe said.
"It goes well with Japanese dishes like sashimi or grilled fish, as well as with sauces like soy or miso," he added.
Sake, a kind of rice wine, or shochu — a spirit distilled from sweet potatoes or rice, amongst other things — are the indigenous drinks, and beer has gained a considerable foothold.
Japan's wine market is still relatively small. On average, Japanese adults drink just 2.5 liters (around three bottles) of wine a year, of which about one-third is grown domestically, compared with the 50 liters the French drink.
It is also relatively young. Despite the Koshu grape's long history in Japan, it was not pressed into use for wine until after the Meiji restoration in 1868, when the curtain fell on the feudal samurai era, marking the end of more than two centuries in which the country was closed to the outside world.
"The Japanese began to produce wine after their first large-scale contacts with Europe," said Ko Sakurai, chief executive of Suntory Wine International, one of the top five wine companies in the country.
Koshu is starting to attract interest from wine's global cognoscenti, who say it marks a departure for a relatively underdeveloped industry.
"This is a very interesting variety that the region can use to make itself better known as a wine-producing area," said Benjamin Roffet, who was named French Sommelier of the Year in 2010 and who attended the world sommelier championships in Tokyo last month.
The wine "is semi-aromatic, with an expressive nose ... the flavors are very nice and it has a medium acidity," he said.
It goes well with slightly spicy food, but can also stand on its own.
"It is very pleasant to drink," Roffet said of the wine that is described elsewhere as not dissimilar to Muscat d'Alsace, with its fresh and fruity tones.
As well as Koshu, Japanese vineyards also grow Muscat Bailey A, from which they produce red wine. Varieties of French origin are also cultivated, such as Chardonnay, Merlot and Sauvignon.
Sakurai says Japanese wine is now of sufficient quality to export and could even compete with some old world wines.
"We are hoping to sell some of the higher-end wines in Europe, and build up a prestige brand," he said.
Comments will be moderated. Keep comments relevant to the article. Remarks containing abusive and obscene language, personal attacks of any kind or promotion will be removed and the user banned. Final decision will be at the discretion of the Taipei Times.