Cyprus allows limited bank-to-bank transfers
Cyprus' finance ministry further loosened restrictions on access to accounts in the debt-ridden country's two biggest lenders on Friday by allowing limited, bank-to-bank money transfers.
The ministry issued a new decree stating that individuals can transfer up to 2,000 euros (US$2,588) from one bank to another each month. Businesses can transfer as much as 10,000 euros from bank to bank per month.
The new decree will remain in force for another seven days.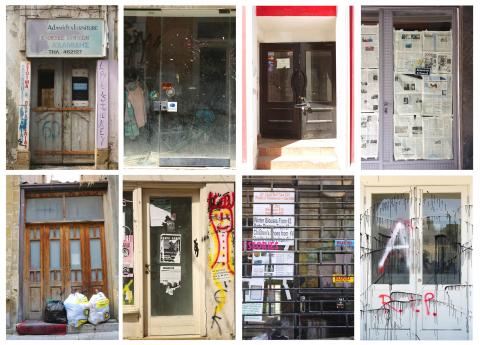 A combination photograph made on Friday of recent pictures shows doors of shops that closed down in Nicosia, Cyprus, due to the economic crisis.
Photo: AFP
Other restrictions still in place — the first-ever imposed in the 17 member group of countries that use the euro — include a daily cash withdrawal limit of 300 euros and a cap of 1,000 euros in cash for people leaving the country.
Cypriot officials said the limits would be lifted gradually over the next weeks to allow confidence to return in the country's decimated banking sector, but local businesses are feeling the pinch from the liquidity crunch.
Cyprus imposed the limits last month to head off a potential bank run. Lenders were shut for nearly two weeks to allow the country to finalize a 10 billion euro bailout with its eurozone partners and the IMF.
The bailout forces savers in the country's two biggest banks, Bank of Cyprus and Laiki, to take hefty losses in exchange for rescue money.
Second-largest lender Laiki, which was most damaged from its exposure to toxic Greek debt, will be broken up and folded into the Bank of Cyprus. Laiki depositors with more than 100,000 euros (US$129,440) will take major losses, while savers with more than 100,000 euros at the Bank of Cyprus could face losses of up to 60 percent.
The nation's economy is projected to shrink this year by more than 9 percent of GDP, more than double an earlier forecast of a contraction of 3.5 percent of GDP. Unemployment now stands at about 15 percent, but that is sure to rise as hundreds are expected to be laid off from a shrinking banking sector that was as the heart of the country's once-strong financial services industry.
Comments will be moderated. Keep comments relevant to the article. Remarks containing abusive and obscene language, personal attacks of any kind or promotion will be removed and the user banned. Final decision will be at the discretion of the Taipei Times.