Sydney flyover starts Qantas-Emirates tie-up
Two Airbus A380s made a dramatic tandem flight over the Sydney Harbour Bridge yesterday to launch the new Qantas-Emirates partnership, hailed by the Australian carrier as a "seismic shift" in aviation.
The tie-up, approved last week by Australia's competition watchdog, allows the two airlines to combine operations for an initial period of five years, including coordinating ticket prices and schedules.
It will also see Qantas switch its hub for European flights from Singapore to Emirates' Dubai base as it attempts to turn around its struggling international business.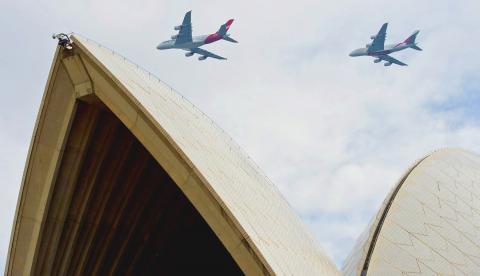 A Qantas A380, left, and an Emirates A380 perform a fly-over at 450m over Sydney Opera House in Sydney, Australia, yesterday.
Photo: EPA
"Dubai is the best hub for Qantas in the 21st century," the company's chief executive Alan Joyce said after watching the flyover by super jumbos from both airlines at 450m over Sydney's famous landmark.
"It is eight hours' flying time from 75 percent of the world's population," he said.
STRATEGY
Joyce said the deal was one of the most important strategic initiatives Qantas would ever make, offering benefits to customers in terms of network and frequent flyer benefits and cutting flight times to top European destinations.
"This is one of the biggest days in Qantas's 92-year history. That's because this partnership will play a critical role for us into the future," Joyce said.
"This joint network with Emirates is a key part of tackling the structural challenges that Qantas International is faced with. But more than that ... it is a seismic shift in global aviation," Joyce added.
At a press conference with Joyce, Emirates president Tim Clark said the stitching together of the airlines' services had created a "game-changing partnership" providing "one of the most formidable aviation networks in the world."
He said the aviation sector had not previously contemplated a partnership of this scale, particularly involving Emirates, which historically had not been keen on forming partnerships.
SUSTAINABILITY
The alliance is seen as vital to the sustainability of Qantas, which last year posted its first annual deficit since privatization in 1995 due to tougher competition and high fuel costs for its international arm.
For Emirates customers, it opens up Qantas's Australian domestic network of more than 50 destinations.
Australian Transport Minister Anthony Albanese said he believed the arrangement would benefit Qantas and Emirates, but also Australian businesses and holidaymakers traveling to Europe and northern Africa, as well as Australian tourism.
"But it is also the case that we live in a world whereby, as an end point destination, Qantas couldn't continue to be exactly as it has been in the past," Albanese said. "We do need partnerships, which are a fact of the global aviation industry."
Aviation analyst Geoffrey Thomas said the partnership was a sign of the times.
"It recognizes that the hub of aviation is moving from Asia to the Middle East," he told Sky News, adding that while Asia would remain dominant, the Middle East made more sense for European journeys.
The first Qantas flights departing from Sydney and Melbourne to London via the international hub of Dubai were due to leave yesterday.
FEAT
Qantas said the feat by the two super jumbos is thought to be the first time anywhere in the world that two commercial airline A380s have flown in formation.
Pilots from both airlines completed dozens of special simulator training sessions, with Emirates pilots traveling to Australia this month to train in Qantas' A380 simulator.
Comments will be moderated. Keep comments relevant to the article. Remarks containing abusive and obscene language, personal attacks of any kind or promotion will be removed and the user banned. Final decision will be at the discretion of the Taipei Times.