ANA wants Boeing cash for 787 grounding: source
All Nippon Airways Co (ANA), the biggest customer for Boeing Co's 787 Dreamliner, wants the planemaker to compensate it in cash, rather than discounts on future purchases, for losses racked up since the aircraft was grounded worldwide in mid-January, a person familiar with the airline's intention said.
All 50 Dreamliners have been idled for two months after separate incidents with the plane's battery at a US airport and on a domestic flight in Japan. ANA operates 17 of those aircraft and has likely been hardest hit by having the plane out of service. The airline has canceled more than 3,600 flights to the end of May.
"ANA would prefer to have the cash," said the person, who asked not to be identified, adding that compensation talks with Boeing had not yet begun.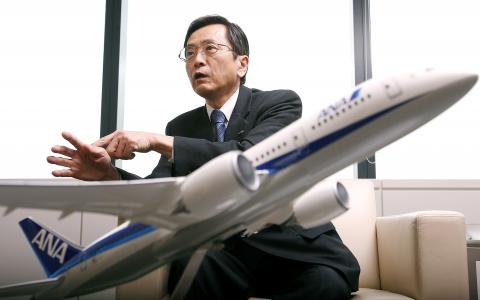 All Nippon Airways Co's senior executive vice president Osamu Shinobe speaks behind a model of a Boeing 787 Dreamliner during an interview in Tokyo on Monday.
Photo: Reuters
"This is not something we have disclosed," All Nippon Airways spokesman Ryosei Nomura said. "Nothing has been decided regarding future talks with Boeing."
Boeing has yet to say if it will compensate carriers for lost revenue from the 787's grounding. Nor has it indicated how it would do this or how much it might pay.
Persuading customers to accept discounts on future purchases would allow Boeing to spread any reimbursement costs over several years. Airlines, though, may see cash compensation as a quicker way to make up for their losses.
Boeing declined to comment on compensation issues. "There's a singular focus on getting the airplanes returned to service. Our customers want that and we're working hard to achieve that," company spokesman Marc Birtel said.
Boeing is reported to have already faced billions of US dollars in fees for three years of delays in getting the 787 into service because of problems with a global production system.
While airplane purchase deals tend to be very complex and can involve long-term ties, compromise is common. For example,when Boeing's 747-8 hit snags, instead of canceling, Hong Kong's Cathay Pacific Airways Ltd (國泰航空) came away with a good deal on new 777s, air industry sources said.
After ANA, which has ordered another 66 Dreamliners, the biggest 787 operator is rival Japan Airlines Co (JAL) with seven of the jetliners, and another 38 on order. United Continental Holdings Inc's United Airlines and Air India both have six.
ANA has not said how much the 787's grounding has cost it to date, though it has said it was losing US$868,300 in revenue per plane in the last two weeks of January.
Japan Airlines president Yoshiharu Ueki said on Tuesday the 787's grounding could knock ¥1.1 billion (US$11.6 million) off the airline's operating profit for April to May, taking the total hit since the grounding to ¥1.8 billion.
Without yet having found what caused the battery incidents in January, Boeing last week unveiled a new battery system and predicted the 787 could be back in the air within weeks — a forecast that ANA chief Osamu Shinobe described as a best-case scenario as it remained unclear how long regulators will take to approve Boeing's battery fix.
Comments will be moderated. Keep comments relevant to the article. Remarks containing abusive and obscene language, personal attacks of any kind or promotion will be removed and the user banned. Final decision will be at the discretion of the Taipei Times.