Acer nets loss on write-downs
OPTIMISM: After a difficult year, the company is counting on Windows 8 and Android mobile devices to drive growth as PC demand falters
Acer Inc (宏碁), the world's fourth-largest PC brand, yesterday reported a net loss of NT$3.37 billion (US$113.12 million), or a loss per share of NT$1.24, for the last quarter, following a NT$3.5 billion write-down for losses in the value of the rights to four trademarks — Gateway, Packard Bell, eMachines and E-Ten (倚天).
Without the intangible asset impairment loss, its net profit would have expanded 93 percent quarter-on-quarter and 39 percent year-on-year to NT$131 million, with earnings per share of NT$0.05, compared with NT$0.03 in the previous quarter and NT$0.03 a year ago, the company said.
Although sales last quarter fell 2.77 percent sequentially and 20.42 percent from a year earlier to NT$101.52 billion, gross margin surged to a two-year high of 10.5 percent, while operating margin stayed low at 0.1 percent, Acer said.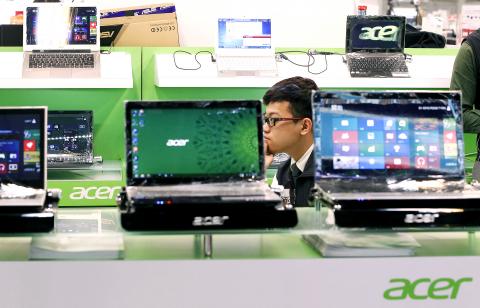 A shop attendant sits in an Acer booth in a computer mall in Taipei yesterday.
Photo: Pichi Chuang, Reuters
The company said notebook computers remained its largest revenue source last quarter, accounting for 66 percent of total information-technology product sales, followed by desktop PCs (16 percent) and display products (8 percent).
Sales to the EMEA — Europe, the Middle East and Africa — led all markets, accounting for 38 percent of the total, ahead of the Pan-American region's 28 percent and the Asia-Pacific region's 18 percent.
Acer chairman and chief executive officer Wang Jeng-tang (王振堂) said the company has seen changes in the PC industry and is planning to roll out new tablet lineups using Windows and Android operating systems (OS), as well as new Android smartphones.
"The PC industry is changing so fast, and more smartphones and tablets are being launched [to compete with] notebooks. However, Microsoft is also trying revitalize its Windows system, which we consider very helpful because we believe Microsoft's efforts will help stabilize the PC market," he said.
Wang said he had seen "positive developments" in Windows 8 PC products and forecast that the company's sales of such products would improve, as Acer holds key component manufacturing technologies and market demand for Windows 8 products is picking up.
For this quarter, Wang forecast that Acer's sales would be flat from NT$101.52 billion last quarter, while shipments would drop by between 10 percent and 15 percent quarter-on-quarter.
Acer also set a higher shipment target for its tablet products of between 5 million and 10 million units this year, adding that it would aggressively develop more mobile devices, including smartphones, to catch up with market trends.
"We realize that the PC market has grown rapidly and reached a mature stage, but we are confident that we can develop competitive smartphones and tablets, to adapt to the trend and revive our sales momentum," Wang said.
For the whole of last year, Acer reported a net loss of NT$2.91 billion, or a net loss per share of NT$1.07. In 2011, the company posted a net loss of NT$6.6 billion. Without the asset impairment, Acer said it would have made a profit of NT$586 million, or NT$0.22 per share, last year.
Comments will be moderated. Keep comments relevant to the article. Remarks containing abusive and obscene language, personal attacks of any kind or promotion will be removed and the user banned. Final decision will be at the discretion of the Taipei Times.