Burned battery on 787 not due to overcharging
BURNING ISSUE: Deliveries of Dreamliners are on hold as investigators look into two recent incidents which have led airlines to ground planes and cancel flights
The battery that caught fire in a Japan Airlines Boeing 787 in Boston earlier this month was not overcharged, but government investigators said there could still be problems with wiring or other charging components.
An examination of the flight data recorder indicated that the battery did not exceed its designed voltage, the US National Transportation Safety Board (NTSB) said in a statement.
NTSB investigators are continuing to look at the battery system.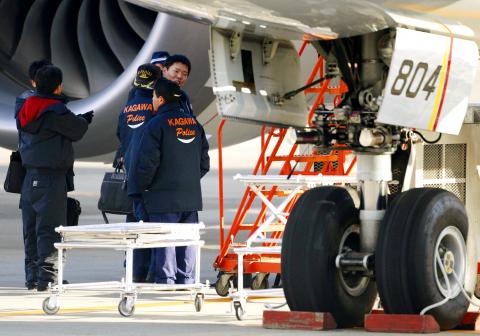 Japanese police officers on Friday investigate the All Nippon Airways 787 Dreamliner plane which made an emergency landing on Wednesday at Takamatsu Airport in Takamatsu, Japan. Boeing Co's Dreamliners have been grounded worldwide after a battery fire in Boston, Massachusetts, and the emergency landing in western Japan.
Photo: Reuters
They plan to meet today with officials from Securaplane Technologies Inc, manufacturer of the charger for the 787s' lithium-ion batteries, at the company's headquarters in Tucson, Arizona, NTSB spokeswoman Kelly Nantel said.
"Potentially there could be some other charging issue," Nantel said.
Even though it appears the voltage limit was not exceeded in the case of the Japan Airlines 787 battery that caught fire on Jan. 7 in Boston, it is possible that the battery failures in that plane and in an All Nippon Airways (ANA) plane that made an emergency landing in Japan last week may be due to a charging problem, according to John Goglia, a former NTSB board member and aviation safety expert.
Too much current flowing too fast into a battery can overwhelm the battery, causing it to short-circuit and overheat even if the battery's voltage remains within its design limit, he said.
"The battery is like a big sponge," Goglia said. "You can feed it with an eye dropper or you can feed it with a garden hose. If allowed, it will soak up everything it can from the garden hose until it destroys itself."
There are so many redundancies and safeguards in aviation that when an accident or mishap occurs, it almost always is the result of a chain of events rather than a single failure, he said.
Shares in GS Yuasa, which manufactures the batteries for the Dreamliner's advanced electronics systems, were up 0.95 percent to ¥318 in Tokyo trade yesterday.
The Japanese firm is just one of many contractors in a complex global chain that led to three years of delays before Boeing delivered its first 787 to ANA in 2011.
"Engineers from the FAA [US Federal Aviation Administration], Boeing and our aviation bureau started a probe this morning that is mainly focusing on GS Yuasa's production line," Japanese Transport Ministry safety official Yasuo Ishii said.
"They are checking on whether there have been any issues in the production process. We still don't know what caused the battery problem and so we are looking into all possibilities," Ishii said.
Ishii said the inspection does not mean authorities think GS Yuasa, headquartered in the western city of Kyoto, Japan, was to blame for the problems.
The Japan Airlines plane caught fire on Jan. 7 while it was sitting on the tarmac at Boston's Logan Airport.
In a separate incident on Wednesday, an ANA flight made an emergency landing in western Japan after a cockpit message warned of battery problems and a burning smell was detected in the cockpit and cabin.
An investigator in Japan said on Friday that the burned insides of the plane's lithium ion battery show the battery received voltage in excess of its design limits.
Since then, all 50 787s that Boeing Co has delivered to airlines' fleets have been grounded, and the manufacturer has halted deliveries of new planes until it can address the electrical problems.
Yesterday, ANA said the Dreamliner's grounding forced it to cancel 335 flights up to Sunday, affecting nearly 48,000 passengers.
Cancellations on domestic routes from Wednesday through Sunday this week amount to 292 flights for 44,074 passengers, while 43 international flights have been cut, affecting 3,778 passengers, the airline said.
Flights affected include those from Tokyo to San Jose, Seattle and Beijing.
ANA also said it would not receive a Dreamliner that was on order due to the grounding, but declined to say if it would cancel any purchases it has made to date.
ANA and its domestic rival Japan Airlines are key Dreamliner customers with Japan's two biggest airlines having ordered a combined 111 aircraft so far.
Comments will be moderated. Keep comments relevant to the article. Remarks containing abusive and obscene language, personal attacks of any kind or promotion will be removed and the user banned. Final decision will be at the discretion of the Taipei Times.