Home sales may rebound: forecasts
BIDING TIME: After waiting on the sidelines last year to watch the market's reaction to the publication of transaction prices, developers are now beginning new projects
Presale and new home sales are likely to flatten or rebound mildly on the back of pent-up demand this year, following a lackluster performance last year, a local real-estate magazine forecast yesterday.
Presale and new housing construction projects may reach NT$980 billion (US$33.64 billion) in northern Taiwan this year, up 10 percent from last year, if the economy picks up at a modest pace, said Ni Tzu-jen (倪子仁), spokesman for the Chinese-language Housing Monthly.
Including projects in central and southern Taiwan, the volume of presale homes and new construction may reach NT$1.23 trillion, though some companies may shelve development plans later, Ni said.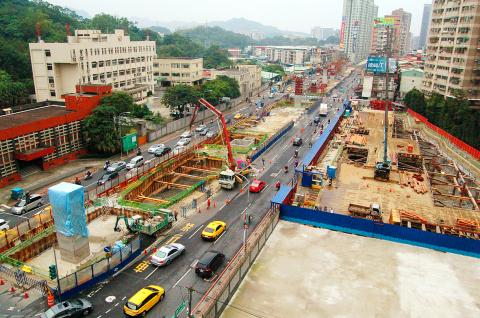 Traffic passes a construction site for the Taipei Mass Rapid Transit (MRT) system in New Taipei City on Dec. 24. Proximity to MRT stations is an important factor in determining property prices.
Photo: Ho Yu-hua, Taipei Times
"Sentiment remains cautious despite reports of economic recovery at home and abroad," Ni said by telephone.
Buyers and developers stayed on the sidelines last year to watch the market's reaction to the government publishing property transaction prices online, a program that began in October.
These buyers and developers have now decided to make a move, as evidenced by healthy presale and new construction volumes, valued at NT$140 billion among listed construction firms this quarter, Ni said, quoting a recent report by the magazine.
The figures mark a significant increase from the fourth quarter, but represent a 30 percent retreat from the first quarter last year, Ni said.
The construction and building materials stock index gained 4.73 percent last month, outpacing the TAIEX's 1.57 percent rise, as investors searched for undervalued shares in the wake of global monetary easing.
High Wealth Construction Co (興富發), which has aggressively built up land stock in recent years, plans to roll out NT$42.5 billion in new housing projects in Taipei this quarter, the report said.
Farglory Land Development Co (遠雄建設) aims to launch NT$30 billion of new projects in Taipei's Neihu District (內湖) and in New Taipei City's (新北市) Jhonghe District (中和), Sinjhuang District (新莊) and Linkuo District (林口), the company said in a statement last week.
Huaku Development Co (華固建設) intends to market new home projects valued at NT$14 billion over the next three months, while Hung Poo Real Estate Development Co (宏普建設) and Hung Sheng Construction Ltd (宏盛建設) plan to unveil projects valued at NT$7.9 billion and NT$7 billion respectively, the report said.
Cathay Real Estate Development Co (國泰建設), Shining Building Business Co (鄉林建設) and Pacific Construction Co (太平洋建設) will also initiate new projects in different parts of the nation, the report said.
"The new projects suggest improved sentiment on the part of developers, but sell-through showing will decide the market's direction," Ni said.
Presale and new home prices are likely to hold steady as they are not subject to the price registration measure, Ni said.
Comments will be moderated. Keep comments relevant to the article. Remarks containing abusive and obscene language, personal attacks of any kind or promotion will be removed and the user banned. Final decision will be at the discretion of the Taipei Times.