Singapore Airlines plans to sell 49% stake in Virgin
Singapore Airlines yesterday said it is in talks to sell its 49 percent stake in British billionaire Richard Branson's Virgin Atlantic.
The airline said in a statement it is in discussions with "interested parties" about a sale.
A person with knowledge of the possible deal told reporters that Atlanta-based Delta Air Lines Inc is in talks with Singapore Airlines about buying the Virgin Atlantic stake. The person requested anonymity because the talks are ongoing.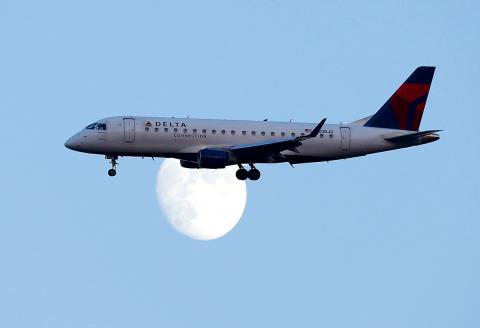 A Delta Airlines commuter jet lands at LaGuardia Airport in New York City on Aug. 28.
Photo: Reuters
Virgin Atlantic is the second-biggest airline at London's Heathrow Airport behind British Airways, which is a partner with Delta competitor American Airlines. Takeoff and landing rights at Heathrow are limited, a barrier for airlines that want to add flights.
A Delta partnership with Virgin Atlantic on US-London routes would allow it to benefit from Virgin's established position at Heathrow.
About 51 percent of Virgin Atlantic is owned by billionaire Richard Branson, who founded the airline in 1984. Singapore Airlines bought its stake from Branson in early 2000 for £600 million (US$962.8 million).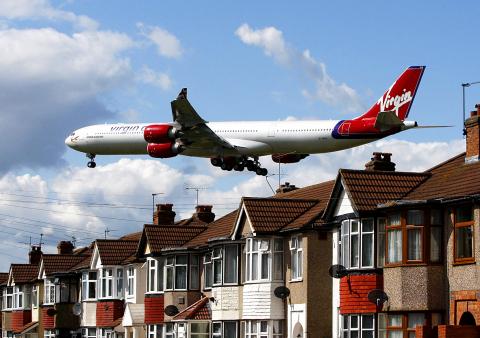 A Virgin Atlantic aircraft comes in to land at Heathrow Airport in London, England, on May 26, 2009.
Photo: Reuters
Singapore Airlines said in its statement that the talks may or may not result in a deal.
The London-New York route is one of the world's major air corridors and Delta has been undertaking a major expansion of its hubs at New York's LaGuardia and John F. Kennedy airports.
Britain's Sunday Times newspaper identified Delta as one of the interested parties and reported that the US carrier had approached Singapore Airlines directly over the stake.
If the sale goes through, Delta's European partner, Air France-KLM, may then buy part of Branson's 51 percent stake, which would see him losing control for the first time of the airline he founded, the report added.
Delta was not immediately available for comment.
Comments will be moderated. Keep comments relevant to the article. Remarks containing abusive and obscene language, personal attacks of any kind or promotion will be removed and the user banned. Final decision will be at the discretion of the Taipei Times.