BOJ cuts growth forecast for Japan
LOST TIME: The Bank of Japan cut its GDP growth forecast to 1.5 percent, from 2.2 percent, saying it would expand asset purchases by US$138bn and fight deflation
The Bank of Japan (BOJ) slashed its forecast for the nation's economic growth in the year to March, saying it now expected a 1.5 percent expansion, well down from an earlier prediction for 2.2 percent.
The downgrade came as Japan's central bank stepped in with about US$138 billion in fresh monetary easing amid pressure on policymakers to help kick-start a lumbering economy, the world's third-largest.
The BOJ said it would expand an asset-purchase program — its main policy tool — by ¥11 trillion (US$138 billion) to ¥91 trillion, while keeping rates unchanged at zero to 0.1 percent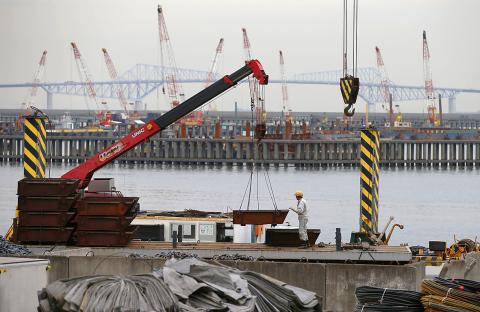 A man works in front of cranes at an industrial area in Tokyo, Japan, yesterday. Japan's industrial output dropped 4.1 percent last month, marking the biggest decline since the aftermath of last year's earthquake, government data showed, in a sign the global slowdown and territorial rows with China dampened factory activity.
Photo: Reuters
Last month, the BOJ unveiled plans to expand the fund by ¥10 trillion.
The central bank had been under increasing pressure from politicians calling for urgent action, as more data filters in to suggest that Japan's post-disaster recovery is stalling because of the global slowdown, while a strong yen has also weighed on demand for Japanese products abroad.
"The Bank of Japan judged it appropriate to undertake further aggressive monetary easing policies in order to prevent Japan's economy from deviating from the path of returning to a sustainable growth path with price stability," it said in a statement.
The bank's decision after its policy meeting comes as industrial production came in weaker than expected for last month, while Japan recently posted its worst September trade figures in more than 30 years, as a territorial dispute with China hit exports.
Factory output fell 4.1 percent last month, official data showed yesterday. Last month's month-on-month decline in industrial production was significantly worse than the 3.1 percent fall expected by the market, with a slump in production of cars, auto parts and machinery helping to dent output.
"Industrial production is on a downward trend," the industry ministry said in a brief statement.
Separate figures released yesterday showed that, while quake reconstruction spending after last year's disaster helped keep Japan's jobless rate steady at 4.2 percent last month, household spending slipped 0.9 percent on year.
Meanwhile, the central bank also yesterday lowered its inflation forecast in the current fiscal year to minus-0.1 percent, from 0.2 percent.
A rare BOJ-government joint statement said they "share the recognition that the critical challenge for Japan's economy is to overcome deflation as early as possible and to return to a sustainable growth path with price stability."
Deflation continues to pose a threat to Japan's recovery as a fall in general prices cuts into corporate profits, leading firms to slash jobs and delay capital investment that generates growth.
It also hurts demand because it encourages consumers to put off purchases.
Comments will be moderated. Keep comments relevant to the article. Remarks containing abusive and obscene language, personal attacks of any kind or promotion will be removed and the user banned. Final decision will be at the discretion of the Taipei Times.