Japan Inc mulls shift away from China to SE Asia
Almost one-quarter of Japanese manufacturers are rethinking their investment plans in China and some may shift future production elsewhere after the spike in tensions between Asia's two largest economies.
The sentiments were expressed in a Reuters Corporate Survey released on Wednesday and in interviews conducted in recent weeks with executives.
The concerns suggest the recent rift between China and Japan over the disputed Diaoyutai Islands (釣魚台) in the East China Sea, which are also claimed by Taiwan, could mark the end of a boom that has played out over two decades in which Japanese companies have emerged as the most active source of outside direct investment in China after Hong Kong and Taiwan.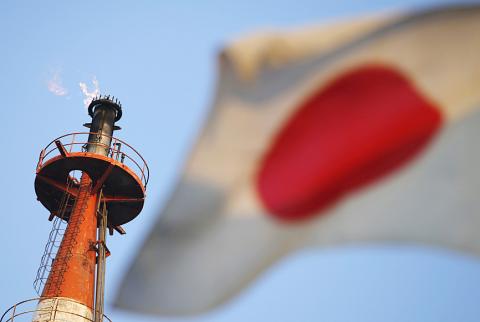 A Japanese flag flutters near a chimney emitting fire at an oil refinery in Kawasaki, near Tokyo, Japan, on Monday.
Photo: Reuters
Since 1990, Japanese companies led by electronics makers like Panasonic Corp and their suppliers have poured almost US$1 trillion into Chinese factories, Japanese government statistics show.
The investment by more than 20,000 firms created more than 1.6 million jobs as Japanese companies looked to take advantage of low production costs and China's potential as a surging market.
Now, sentiment has turned. When asked if their attitude toward using China as a production hub over the medium term had changed, 37 percent of Japanese companies surveyed said they had grown more cautious.
Almost half of Japanese manufacturers said they expected to see lower sales in the current fiscal year. In response to a separate question, 24 percent said they were considering delaying or reducing planned investment in China, while 18 percent said they were considering shifting production to other countries.
The survey allowed companies responding to pick more than one choice to describe the impact of the China dispute on their business, meaning there could be some overlap between the group of manufacturers considering cutting investment and those looking to other markets outside China as future production hubs.
"China is very convenient, but gradually that convenience has been fading," said Yoshihisa Ejiri, 65, president of clothing chain Honeys Co.
The Reuters survey of 400 Japanese companies took place between Oct. 1 and Oct. 17. A month earlier, almost 60 percent of firms in a Reuters survey said they expected little to no fallout from the strains with China.
The 267 Japanese companies that responded to the Reuters Corporate Survey did so on the condition they not be named.
In separate interviews, several executives, including Honeys president Ejiri, said they expected to point new investment to Southeast Asia and largely untapped markets like Myanmar. Ejiri is determined to reduce his company's reliance on China, where Honeys now sources 90 percent of the clothing it sells.
Analysts and executives said the shift from China would come first for low-margin businesses where labor costs are crucial.
For manufacturers that depend on sales in China, like Japanese car and car parts makers, there is no choice but to slow production and hope the anti-Japanese sentiment subsides.
For nearly one decade, Japanese business strategists have been talking up a "China plus one" strategy — a policy of managing risk by locating plants in China and one other Asian nation.
In the early 1990s, Japanese firms led by consumer technology leaders like Panasonic, NEC Corp and Sharp Corp rushed to China.
Over time, the world's two biggest economies after the US grew to complement each other, with China becoming "the world's factory" and Japan supplying many of the components needed for assembly. Two-way trade grew 14 percent to a record US$345 billion last year.
Interest in the "China plus one" strategy starting picking up after the outbreak of the SARS disease that sharply affected China for several weeks in 2002.
The territorial dispute between Japan and China then added a new flashpoint. When workers returned to plants run by Canon Inc and Casio Computer Co last month after the factories were shuttered because of the anti-Japanese protests, they also demanded higher wages, company representatives said.
"Labor costs [in Myanmar] are one-fifth of what China is," Ejiri said, adding that Myanmar also has no export duties for clothing, unlike China.
Last year, Japanese direct investment in the Southeast Asian region surpassed China by a margin of almost 50 percent, according to data from the Japanese Ministry of Finance.
Yet, experts and company executives say it will take years before Southeast Asia can compete with China on factors that are harder to measure than payrolls, like a large pool of skilled talent.
Ejiri, whose Myanmar plant is operating at 60 percent of capacity, agreed. He said he expects it will take a decade for Southeast Asia to match China for efficiency.
Comments will be moderated. Keep comments relevant to the article. Remarks containing abusive and obscene language, personal attacks of any kind or promotion will be removed and the user banned. Final decision will be at the discretion of the Taipei Times.