Microsoft upbeat about Windows 8
The head of Microsoft Corp's Taiwan operation said the world's largest software company by revenue was upbeat about its new Windows 8 operating system at a launch ceremony in Taipei.
"Windows 8 will redefine user experience. With devices running Windows 8, you don't need to compromise in entertainment or in work anymore," Microsoft Taiwan general manager Davis Tsai (蔡恩全) said.
Accompanied by many of the US company's major Taiwanese partners, including key component suppliers, PC makers, distributors, app developers and enterprise customers, Tsai announced the availability of a lineup of Windows 8-supported PCs and tablets during the ceremony.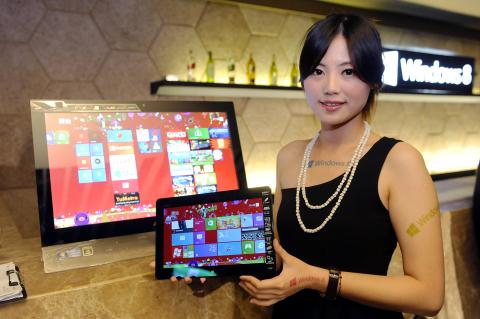 A woman holds a tablet computer equipped with the latest Windows 8 operating system during a Microsoft press conference in Taipei City yesterday to launch the new operating system.
Photo: Sean Chao, Taipei Times
The company said Windows 8 will be available on over 100 Windows 8-based devices in Taiwan in two versions — Windows 8 and Windows 8 Pro — as well as Windows 8 Enterprise for large organizations.
In addition, Windows RT — which is designed for ARM-based tablets, including Microsoft Surface tablet — has been pre-installed on tablet PCs, with a range of applications in the new Windows Store, an entirely new Internet Explorer 10 and Microsoft Office 2013.
The company had kept its retail prices for Windows 8 and its Surface tablet confidential before yesterday.
"Because marketing strategy has been different this year, there has been a lack of communication, causing PC vendors to worry about uncertainties," Tsai said.
Yesterday, the company announced prices of its Surface tablet starting at US$499 with 32GB storage, US$599 for the same storage size and a Touch Cover, to US$699 with 64GB storage and a Touch cover. Unlike Apple Inc's Smart Cover accessory for its iPad tablet, Microsoft's Touch Cover enables users to type.
However, Tsai did not specify when Surface tablets would be available for sale in Taiwan, saying he was sure it would be soon.
Meanwhile, consumers can now upgrade their existing PCs with Windows XP, Windows Vista or Windows 7 by downloading Windows 8 Pro for an estimated retail price of NT$1,299, Microsoft said.
With regard to PC vendors' wait-and-see attitude to the new software, Tsai said that he expects to see more developers join Microsoft in creating applications and therefore boost demand for its services.
"So far, local programmers have already created more than 100 applications for users to download from Windows Store, and some Taiwanese companies in the banking, securities and manufacturing sectors have already adopted Windows 8," Tsai said.
"By the end of this year, it's very likely that we will see increasing demand for Windows 8-supported devices during the holiday season," he added.
Comments will be moderated. Keep comments relevant to the article. Remarks containing abusive and obscene language, personal attacks of any kind or promotion will be removed and the user banned. Final decision will be at the discretion of the Taipei Times.