Japan's trade hit by debt crisis, tensions
CHINA TRADE: The dispute over the Diaoyutai Islands has exacted a heavy toll, with exports to China sinking 14% from a year earlier, while imports climbed 3.8%
Japan's trade deficit widened last month as exports plunged 10.3 percent from a year earlier, weighed down by Europe's debt crisis and a surge in antagonism with China that have damaged close economic ties.
The deficit for the month was ¥558.6 billion (US$7.2 billion), the Japanese Ministry of Finance said yesterday, higher than the forecasts of many analysts and bigger than a deficit of about US$3.7 billion a year earlier. The deficit in August was US$9.6 billion.
The world's third-largest economy is "leveling off," central bank Governor Masaaki Shirakawa told a quarterly meeting of the bank's regional managers. He said the risk of shocks to the financial system from the debt crisis in Europe remains high and slowing global growth is hitting manufacturing and exports.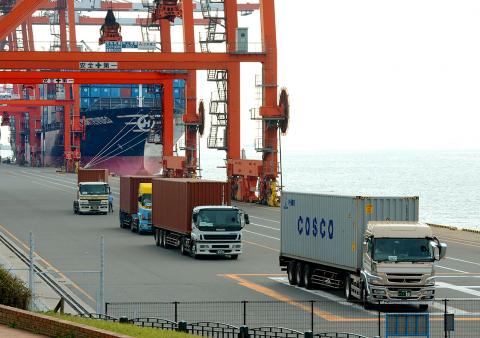 Trucks leave a container yard at the international cargo terminal in Tokyo yesterday. Japan posted its worst September trade figures in more than 30 years, as the global slowdown and a territorial spat with China weighed on the economy.
Photo: AFP
With the risk of recession rising, the Bank of Japan needs to convince markets that it will do anything necessary to pull the economy out of its two-decade-old malaise, said Matthew Circosta, an economist with Moody's Analytics in Sydney, Australia.
Instead of sporadic monetary easing, "they need to make it [is] sustained and powerful," he said. "They've just got to be more aggressive than they are now."
Many expect the central bank to opt for further easing soon, perhaps as early as the next board meeting, on Tuesday next week.
Last month's exports totaled ¥5.4 trillion. Imports rose 4 percent from a year earlier to ¥5.9 trillion, inflated by additional imports of oil and other fuels for power generation as most nuclear reactors remain offline in the aftermath of last year's Fukushima nuclear disaster.
So far, Japan's trade deficit for this year, according to the ministry's provisional figures, is about ¥4.73 trillion.
The ministry figures show exports to all regions falling, apart from a meager 0.4 percent year-on-year gain in shipments to North America.
Exports to crisis-stricken Europe plummeted 26 percent.
A territorial dispute with China that sparked anti-Japanese riots last month took a heavy toll, with exports to China sinking 14 percent from a year earlier to ¥953.4 billion. Imports from China climbed 3.8 percent to ¥1.28 trillion.
The rise in antagonism over the disputed Diaoyutai Islands (釣魚台) — known as the Senkakus in Japan and also claimed by Taiwan — has been especially hard on the auto industry. Auto exports fell 15 percent last month from the year before.
The strong Japanese yen has hurt the country's export competitiveness, while demand has evaporated as growth slowed in most regions. Exports of consumer electronics, a mainstay, fell by double-digit figures from a year earlier.
Resource-scarce Japan is almost entirely dependent on imported fuel, which jumped 18 percent last month from a year earlier to ¥2.15 trillion, accounting for more than a third of Japan's total imports.
Comments will be moderated. Keep comments relevant to the article. Remarks containing abusive and obscene language, personal attacks of any kind or promotion will be removed and the user banned. Final decision will be at the discretion of the Taipei Times.