US existing home sales fall 1.7 percent
LOOMING THREATS: While analysts are still optimistic about the overall state of the US housing market, they are concerned about tightening fiscal policies next year
US home resales retreated last month from a two-year high, a reminder that the US' housing sector is a long way from a full recovery despite recent signs of improvement.
Existing home sales fell 1.7 percent last month to a seasonally adjusted annual rate of 4.75 million units, matching the median forecast in a Reuters poll, data from the National Association of Realtors (NAR) showed on Friday.
Housing has been a relative bright spot in the US economy this year, and Friday's data did not point to a reversal in that trend. The reading for August was revised slightly higher to show resales at a 4.83 million-unit annual rate.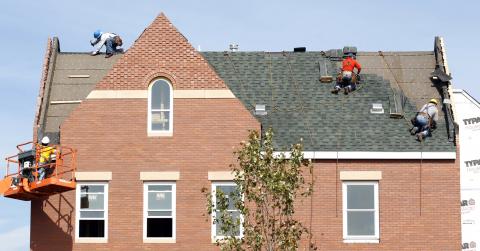 Builders work on the roof of a house under construction in Alexandria, Virginia, on Wednesday. US home resales retreated last month from a two-year high, a reminder that the US' housing sector is a long way from a full recovery despite recent signs of improvement.
Photo: Reuters
"While these numbers bounce around, there is no doubt that this is showing the housing market is improving," said Joel Naroff, president of Naroff Economic Advisors in Holland, Pennsylvania.
The median price for a home resale rose 11.3 percent from a year earlier to US$183,900. The rise in prices appears due to both tight inventories and a downward trend in sales made under distressed conditions like foreclosures.
To support the economy, the US Federal Reserve launched a program last month to buy housing-related debt, an action that has driven mortgage rates to record lows. Fed policymakers meet next week, but are unlikely to take fresh steps.
The economy has shown signs of faster growth recently, with the jobless rate falling and retail sales picking up. Threats to that momentum remain, however. The US government is on track to tighten fiscal policy in January, while Europe's debt crisis also looms heavily.
Tight inventories have helped support home prices in recent months, which could help economic growth by making consumers more comfortable about their finances.
The nation's stock of existing homes for sale fell 3.3 percent last month to 2.32 million units. At the current pace of sales, inventories would be exhausted in 5.9 months, the lowest rate since March 2006, the NAR said.
Lawrence Yun, an economist at the NAR, said the drop in inventories was in part due to a weak pace of new home construction, which has pushed more people into the resales market. While groundbreaking at construction sites is rising, it remains about 60 percent below its 2006 peak.
At the same time, overall demand appears to be firming. The median time previously owned homes spent on market was 70 days last month, down 30.7 percent from a year ago.
Also helping prices, the share of distressed sales fell to 24 percent last month from 30 percent in the same month last year.
This week, Goldman Sachs estimated that growth in the housing sector will likely add about a quarter percentage point to economic growth this year and could add a half-point next year.
Much of the economic boost comes from the building of new homes, although existing home sales also help growth as people go out to buy furniture and realtors reap more in commissions.
In a bid to encourage more home purchases, the Fed said last month it would buy US$40 billion in mortgage-backed securities every month until the jobs outlook improves substantially.
This program, known on Wall Street as "QE3," will add renewed support for housing in the coming months and could build on the progress already seen in the market.
Comments will be moderated. Keep comments relevant to the article. Remarks containing abusive and obscene language, personal attacks of any kind or promotion will be removed and the user banned. Final decision will be at the discretion of the Taipei Times.