QE may hurt economies: IMF
STRIKING A BALANCE: The IMF said that although disagreement on economic policy may be unavoidable, all nations had a stake in global financial stability
Monetary easing in the developed world could cause overheating and asset bubbles in emerging economies, the IMF's chief said in Tokyo yesterday.
"Accommodative monetary policies ... could strain the capacity of those economies to absorb the potentially large flows and could lead to overheating asset price bubbles," IMF Managing Director Christine Lagarde told the close of the fund's and World Bank's annual meeting.
Critics in emerging nations have argued that easing measures, particularly in the US, have driven down the value of the US dollar and sparked huge capital flows to spill across their borders, raising the risk of overheating and driving up national currencies.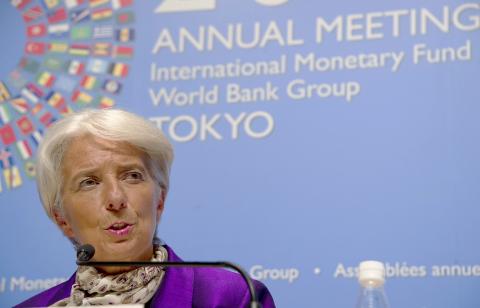 IMF Managing Director Christine Lagarde speaks at a press briefing during the annual meetings of the IMF and the World Bank Group in Tokyo, on Saturday.
Photo: EPA
On Friday, Brazilian Finance Minister Guido Mantega warned that his country would take "whatever measures it deems necessary" to fight the problem.
"Emerging markets can't passively endure large and volatile capital flows and currency fluctuations caused by rich countries' polices," he said in Tokyo. "Advanced countries cannot count on exporting their way out of the crisis at the expense of emergingmarket economies."
"Currency wars will only compound the world's economic difficulties," Mantega added.
However, US Federal Reserve Chairman Ben Bernanke yesterday rejected claims that central bank easing in rich countries was to blame for the huge waves of capital flowing into emerging economies.
"The linkage between advanced-economy monetary policies and international capital flows is looser than is sometimes asserted," he said in a statement.
The top US central banker added that the "beneficial effects" of the Fed's policies in propping up the US economy — the world's biggest and a key developing world export market — should be given "appropriate weight."
The Fed has maintained an ultra-low interest rate policy for several years, pumping about US$2.3 trillion into the US economy to stimulate growth. Last month, the central bank decided to inject US$40 billion a month to help an economy beset by stubbornly high unemployment.
Lagarde yesterday appeared to be playing a balancing act on the effect of easing policies from central banks in Europe, Japan and the US.
"We have seen several bold initiatives by major central banks certainly that the IMF highly praises and values as major contributing factors to stability," she said. "These are big policy actions in the right direction. Indeed central bankers must play a significant role in pulling the global economy out of the current malaise."
However, Lagarde acknowledged "there are diverging views within and across countries about important issues including the management of capital flows."
"Disagreement might be unavoidable, but we must not forget that we all have a stake in global financial stability," she added.
"Given the crossborder spillover effect of monetary policy decisions, central banks may need to step up their international dialogue and cooperation. It is important of us to stay at the table and work through these issues," she said.
Comments will be moderated. Keep comments relevant to the article. Remarks containing abusive and obscene language, personal attacks of any kind or promotion will be removed and the user banned. Final decision will be at the discretion of the Taipei Times.