Softbank eyes monster US deal
'MASSIVE SCALE': Japan's Softbank confirmed it was in talks to take a controlling stake in Sprint Nextel, while the 'Nikkei' daily said it was also eyeing another carrier, MetroPCS
Japanese mobile carrier Softbank is eyeing a monster US$25 billion buy-in to the US telecoms market, including the takeover of Sprint Nextel in what could be among Japan's biggest-ever overseas deals, but investors threw cold water on the potential marriage as shares of Softbank, Japan's third-largest carrier, plunged 16.86 percent to close at ¥2,395 on the Tokyo Stock Exchange yesterday.
Shares of Softbank's rival KDDI were up 1.19 percent at ¥5,910, one of the heaviest-weighted positive contributors to the benchmark Nikkei 225 index, which closed down 0.15 percent, or 12.66 points, at 8,534.12.
Sprint Nextel confirmed on Thursday it was talking with Softbank about a takeover, which could help vault the Japanese firm into the top three mobile giants globally.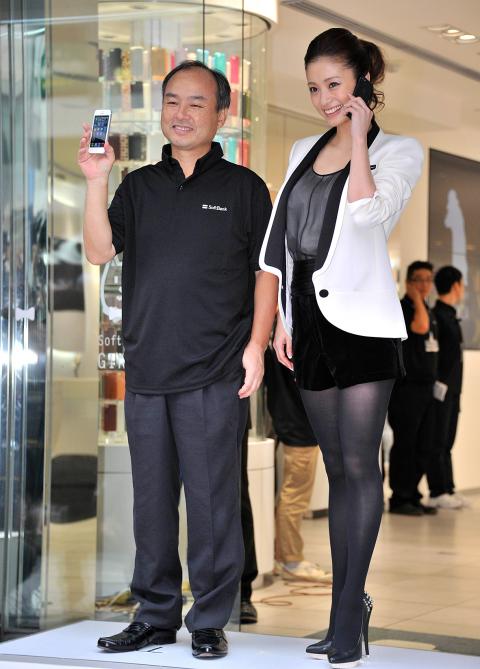 Softbank president Masayoshi Son, left, and Japanese actress Aya Ueto launch Apple's iPhone5 at a Softbank shop in Tokyo on Sept. 21.
Photo: AFP
Sprint shares surged 14.3 percent to close at US$5.76 in US trade on Thursday.
"Although there can be no assurances that these discussions will result in any transaction or on what terms any transaction may occur, such a transaction could involve a change of control of Sprint," a Sprint statement said.
"Sprint does not intend to comment further unless and until an agreement is reached," the statement added.
Yesterday, Softbank confirmed the talks about buying a controlling stake in Sprint, the third-largest US carrier.
The Japanese carrier has entered into large deals before, buying the struggling Japanese arm of Vodafone in 2006 for about ¥1.75 trillion (US$23.3 billion).
Earlier this month, Softbank said it would acquire smaller rival eAccess Ltd for US$2.3 billion.
Japan's leading Nikkei business daily reported yesterday that Softbank was also eyeing fifth-ranked US carrier MetroPCS Communications. Softbank declined to comment on that potential deal.
Acquiring the two firms could carry a price tag as high as ¥2 trillion and would make Softbank the world's No. 3 mobile player, putting it just behind China Mobile (中國移動) and US-based Verizon Wireless.
The Japanese firm plans to buy more than two-thirds of Sprint's outstanding shares, but a sharp jump in Sprint's share price could derail the acquisition plan, it added.
"The scale of the Sprint deal is massive, and frankly, difficult to fully dissect at this point," said Toshiyuki Kanayama, market analyst at Monex.
"Investors were discouraged by the possibility that the company could be saddled with a heavy financial burden," said Kenji Shiomura, a strategist at Daiwa Securities. "Putting aside the point of whether the deal could be successful in the long run, the market is cautious."
He said that any new share issue to finance the deal could dilute the value of existing Softbank stock, a move likely to worry investors.
"We are still looking for details of the deal and where the synergies will lie," Shinkin Asset Management fund manager Naoki Fujiwara said.
"The debt burden is a concern ... The scale of the prospective deal is bold, and if successful it will significantly raise Softbank's revenue and status, but the cost-effectiveness of the strategy, as well as details of the financing, will be closely watched," Fujiwara added.
Comments will be moderated. Keep comments relevant to the article. Remarks containing abusive and obscene language, personal attacks of any kind or promotion will be removed and the user banned. Final decision will be at the discretion of the Taipei Times.