Global luxury brands moving out as Argentina tightens currency controls
Weary of high tariffs and currency restrictions that have dented their profits in Argentina, purveyors of luxury goods are abandoning this once lucrative market — a blow to a country which prides itself on its European-style flair.
The latest store to say it will pack up its wares and leave for home is US designer Ralph Lauren, whose departure will leave a large hole on the chic Alvear Avenue, a symbol of Buenos Aires luxury.
The departure of the Ralph Lauren store, a mainstay of the city's upscale Recoleta neighborhood, follows that of Giorgio Armani in 2009 and the earlier exit of Escada and Yves Saint Laurent — high-end brands that had been fixtures in Buenos Aires for decades.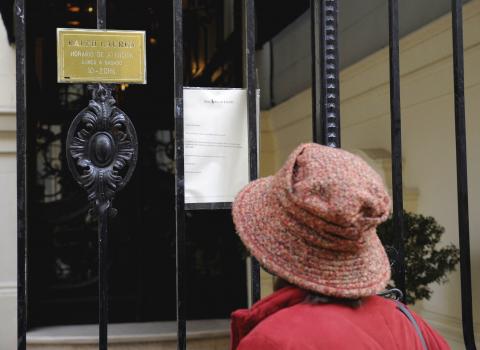 A woman reads a notice informing about the temporary closure of the Ralph Lauren main store on Alvear Avenue in Recoleta, Argentina, on Aug. 9.
Photo: AFP
Media reports suggest that another luxury retailer, the famed Cartier jewelry boutique, will likely follow suit soon.
"In Argentina, these brands are in trouble because of measures to control foreign exchange and the export obligation for an amount equivalent to the goods we import," luxury goods industry analyst Diego Schvartzman of the MDL Consulting Group said. "They are having a harder and harder time making a profit."
The exodus stems from a decision by Argentine President Cristina Fernandez to impose tough currency controls tightening measures to stem capital flight and protect foreign exchange reserves.
The government has also ramped up import barriers to try to maintain a trade surplus.
The new rules include restrictions on the sale of US dollars — including barring travelers from purchasing them unless the greenback is the currency of their destination.
In a statement to Agence France-Presse, Ralph Lauren insisted that it is not abandoning Argentina altogether and that its absence would be a short one.
"We're not leaving the country: We've reviewed our situation and decided to temporarily close our three stores," the company said.
However, a resident of La Recoleta said she was not so sure, as she read the closure notice on the store window of the US designer's shop.
"They will all leave because they cannot move their profits out of the country," the 65-year-old woman said.
Some luxury brands like Italian Ermenegildo Zegna, known the world over for its upmarket men's clothing and present in Buenos Aires since 1999, have other solutions, and are weathering the tough times by trimming other costs.
Zegna is not ready to abandon "one of the most important markets of South America with Brazil and Chile," a source at the firm said, asking not to be named.
"Argentina is strategic for the brand and has always given good results," the source said.
Schvartzman said the difficulties facing these high-end brands are all the more absurd because the luxury goods market is doing well in other Latin American countries.
"The luxury market is booming in Latin America, especially in Brazil and Mexico, but also in Peru, Colombia — even more so in Chile," he said.
Even the revolving door openings and closings that some high-end retailers resort to is far from ideal.
"Stores here close and reopen at the mercy of economic cycles," the head of one real-estate office said, with a hint of despair.
Buenos Aires imposed the strict controls on foreign exchange operations late last year, after currency reserves needed to repay the nation's debt shrank nearly US$6 billion to US$46.6 billion in a matter of months.
However, the measures have put the squeeze not only on sellers of luxury goods for whom transactions often take place in US dollars, but also on real-estate transactions and construction, increasing the risk of recession, experts said.
The government's moves have also led to severe restrictions for banks, companies and even small savers seeking to combat inflation, which stands at about 25 percent, according to independent analysts.
Comments will be moderated. Keep comments relevant to the article. Remarks containing abusive and obscene language, personal attacks of any kind or promotion will be removed and the user banned. Final decision will be at the discretion of the Taipei Times.