Volkswagen wraps up its acquisition of Porsche two years earlier than planned
Volkswagen (VW), Europe's biggest automaker, is to wrap up its takeover of German luxury sports car group Porsche two years earlier than planned in order to unlock hitherto untapped economies of scale.
In a statement issued late on Wednesday, the two companies — which have been seeking to merge since 2009 — said they had found a way to integrate their two businesses "some two years earlier than would have been economically feasible" under their previous plans.
The news sent VW shares jumping more than 4 percent in early trade yesterday, when they were the biggest gainers on the blue-chip DAX 30 share index.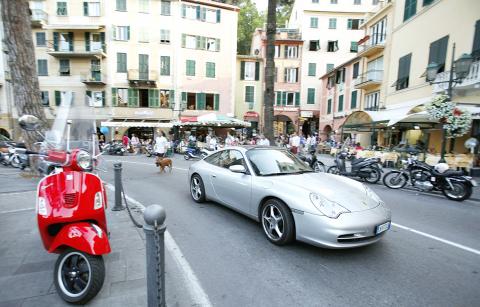 A Porsche 911 automobile drives past restaurants in Santa Margherita Ligure, Italy, on Saturday.
Photo: Bloomberg
Under the deal, which they said would unlock 320 million euros (US$400 million) in net synergies, VW is to pay Porsche's current holding company, Porsche SE, 4.46 billion euros plus one VW share for the 50.1 percent it does not already own in the sports car maker.
VW initially acquired 49.9 percent in Porsche in 2009 in the first stage of a complex takeover agreement, the completion of which has since run into a number of legal and tax hurdles.
Prior to VW's takeover of Porsche, the sports car maker had itself tried, but failed, to swallow the much larger VW, running up more than 10 billion euros of debt in the process.
When VW announced its takeover plans for Porsche in 2009, its initial goal was a merger with Porsche SE, which currently holds a 50.7 percent stake in VW and a 50.1 percent stake in Porsche AG.
However, it quickly shelved such ambitions in the face of dozens of lawsuits by hedge-fund investment managers seeking billions of dollars in damages from Porsche related to the failed takeover attempt.
Under the new merger structure, which also has the advantage of averting massive tax payments for VW, Porsche SE will contribute its operations as a holding company, including its 50.1 percent Porsche stake, to Volkswagen AG, which already holds indirectly 49.9 percent of Porsche AG, the statement said.
"Once the transaction has closed, Volkswagen will hold 100 percent of the shares of Porsche AG via an intermediate holding company," it explained.
VW's brands currently include Volkswagen, Audi, Skoda, SEAT, Bentley, Bugatti and Scania and MAN trucks.
Comments will be moderated. Keep comments relevant to the article. Remarks containing abusive and obscene language, personal attacks of any kind or promotion will be removed and the user banned. Final decision will be at the discretion of the Taipei Times.