Sanctions no obstacle as North Korea elite live it up
Pyongyang lacks for nothing, as Chinese suppliers ignore sanctions to capitalize on the North Korean elite's appetite for luxury goods
Nuclear-armed North Korea has been under heavy sanctions for years, but there is little sign of any effect on the elite in Pyongyang, who enjoy unfettered access to upmarket cars and consumer goods.
The economy of the isolated North — where famine killed hundreds of thousands in the 1990s — is widely believed to be battered and stuttering, but the luxury shops of the showcase capital tell a different story.
According to expatriates living in the city, there are ever more cars on the roads and traffic in the center is increasingly busy.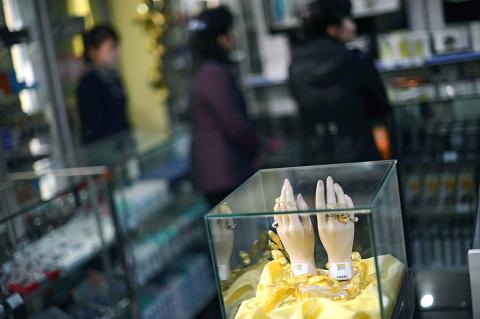 People look for articles at a store in Pyongyang on April 12. For several years, North Korea has been subjected to heavy international sanctions due to its nuclear program, but all it takes is a walk in the streets of the North Korean capital and a trip into various shops to realize the embargo is broken without second thought.
Photo: AFP
Many vehicles are old, but the number of newer Mercedes, BMW, Lexus, Toyota and Land Rover models is on the rise.
The international community imposed a strict embargo on all luxury goods for North Korea and its ruling elite in 2009, but it is ignored by supply networks running through Pyongyang's key ally, China, South Korean lawmaker Yoon Sang-hyun said.
North Korean imports of luxury goods, including flat-screen televisions, digital cameras and other electronic equipment, almost doubled between 2008 and 2010, rising from US$272 million to US$446 million, he said.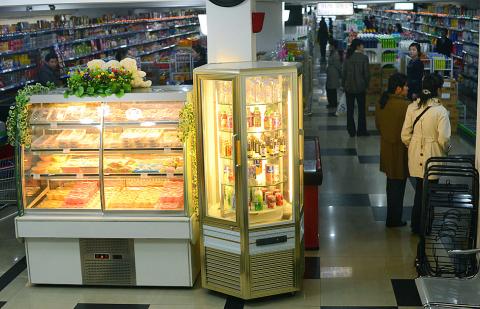 Products are displayed at a store in Pyongyang on April 12.
Photo: AFP
"Pyongyang lacks for nothing," one foreign resident said.
Nowhere is that more apparent than in the two-story Pothongang Ryugyong department store, which displays imported products ranging from food and clothing to electronics and furniture. Foreign currency only is accepted.
Champagne is on sale — for about 70 euros (US$93) a bottle, more than double the price in France — along with marquee wines from Bordeaux and Burgundy, and various brands of whisky, gin, vodka and rum.
The heaving food shelves are packed with Danish and New Zealand butter, French and European cheeses, beef from Australia, and virtually all brands of soft drinks — with the exception of Coca-Cola.
Tokyo has a strict trade embargo against North Korea, but the store offers Japanese products including food, cooking utensils and crockery.
Another section displays high-end watches and jewelry, foreign perfumes, flat-screen TVs and stereos.
The shop's clientele are members of the political and military elite, but also include newly wealthy businessmen.
Ordinary North Koreans have recourse to a limited number of free markets where imported goods are also available — and they are packed.
The Tongil market in the south of Pyongyang opened in 2003 and fills a 7,000m2 hall.
"People elbow each other out of the way in front of stalls offering everything: meat, vegetables, fruit, Singaporean beer, Western spirits, cosmetics and South Korean and Japanese electronics," a French journalist who has visited several times said.
The shops and markets are supplied via China. Total two-way trade between the countries, which share a 1,415km border, rocketed by 87 percent year-on-year in the first half of last year to US$3.1 billion, according to Chinese data.
Experts say the actual value is probably much higher if barter, exchanging North Korean raw materials — the country is rich in coal and iron ore — for Chinese consumer goods is included.
For Pyongyang's "golden couples" — as state officials married to businesswomen are sometimes dubbed — two foreign-run Italian restaurants have opened, offering pizza, pasta and Italian wines — plus Coca-Cola from Italy.
A Swiss restaurant has a fondue made from local cheese on its menu.
Such consumer pleasures could eventually become a breeding ground for the development of a market economy — if North Korea under new leader Kim Jong-un ever decides to loosen government controls.
China started the same trajectory from poverty and hunger 30 years ago to become an economic superpower, but no sign of reform is evident in North Korea.
And outside Pyongyang is another country — one where, according to the UN, a third of people under five years old still suffer from chronic malnutrition and an entire generation is stunted in growth after the 1990s famine.
Comments will be moderated. Keep comments relevant to the article. Remarks containing abusive and obscene language, personal attacks of any kind or promotion will be removed and the user banned. Final decision will be at the discretion of the Taipei Times.