Japan boosts lending, leaves rates unchanged
The Bank of Japan yesterday boosted a loan program by almost US$25 billion as part of efforts to kickstart the economy, while leaving the key interest rate unchanged at between zero and 0.1 percent.
The central bank also said the country's sluggish economy has shown signs of picking up as it announced a one-year extension to a loan program for banks in areas hit by last year's earthquake and tsunami.
The bank said it would hike a lending program by about ¥2 trillion (US$24.4 billion) to ¥5.5 trillion, amid reconstruction efforts seen as crucial to reviving the disaster-struck economy.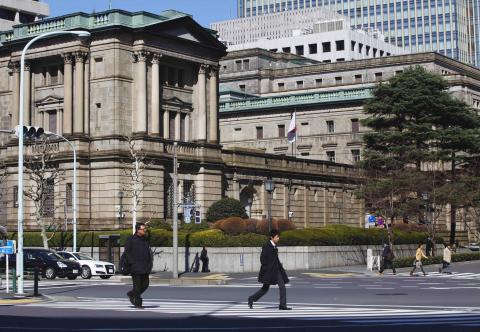 Pedestrians cross a street in front of the Bank of Japan headquarters building in Tokyo yesterday.
Photo: Reuters
"Japan's economy is expected to gradually emerge from the current phase of flat growth and return to a moderate recovery path as the pace of recovery in overseas markets picks up," it said in a statement.
However the bank warned that there remains a "high degree of uncertainty" over the health of global financial markets, while a high yen and slackening demand overseas has dented exports.
Japanese shares gave up earlier gains and ended nearly flat yesterday, with the Nikkei 225 index at the Tokyo Stock Exchange edging up 0.09 percent, or 9.22 points, at 9,899.08, off an intra-day high of 10,011.88.
The TOPIX index of all first-section issues inched 0.01 percent higher, or 0.05 points, to 845.33.
"Investors expected little from the central bank and they got little," an equity trader at a foreign brokerage told Dow Jones Newswires.
Japan has seen a mixed bag of economic data lately, clouding the picture for its economy.
The country logged its biggest-ever trade deficit in January as exports stuttered, but revised GDP data revealed the economy contracted less than first thought.
Last month, the bank said it would increase its asset purchase program by ¥10 trillion to about ¥65 trillion as it looked to combat the stubborn deflation that has haunted Japan's economy for years.
Deflation continues to pose a threat to Japan's recovery as a fall in general prices cuts into corporate profits, leading firms to slash jobs and put off capital investment that generates growth.
It also hurts demand because it encourages consumers to put off purchases.
Comments will be moderated. Keep comments relevant to the article. Remarks containing abusive and obscene language, personal attacks of any kind or promotion will be removed and the user banned. Final decision will be at the discretion of the Taipei Times.