SIA asks pilots to accept unpaid leave deal
TWO YEARS: Pilots who take the offer will be allowed to work for other airlines, such as SIA's budget carrier arm, Scoot, and its 33-percent holding, Tiger Airways
Singapore Airlines (SIA) yesterday said it had asked its pilots to volunteer for unpaid leave for up to two years as it struggles with a sharp slowdown in the aviation sector.
The airlines' offer to pilots below the rank of captain comes after it reported last month that profits fell by more than half in the final quarter of last year because of rising fuel costs, and weakening passenger and cargo demand from Europe.
The call, which will allow the pilots to join SIA's rivals, was made to "help address a temporary surplus of senior first officers, first officers, second officers and cadet pilots," spokesman Nicholas Ionides said.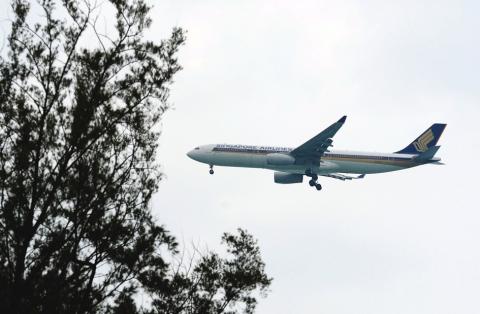 A Singapore Airlines aircraft prepares to land at Changi International Airport in -Singapore on May 12 last year.
Photo: AFP
He said the carrier was "not able to provide specific targets for how many pilots may take up the offer" as it was a voluntary scheme.
Despite the move, Ionides said the company had no plans to -reduce flights and downsize its operating fleet in the near term.
The announcement comes as the global industry is hit by soaring fuel prices and low demand.
The International Air Transport Association (IATA) in December last year cut its forecast for the sector's profits this year to US$3.5 billion, down from its earlier forecast of US$4.9 billion.
IATA warned of losses of more than US$8 billion under a "worst-case scenario," in which the eurozone debt problem evolved into a full-blown banking crisis and there was a European recession.
SIA recently announced that net profit plunged 53 percent year-on-year to S$135.2 million (US$107.9 million) in the October-December quarter, while it said last week it would raise fuel surcharges by up to US$28.
About half of the airlines' 2,335 pilots were not of captain rank as of March 31 last year, the company's 2010 to 2011 annual report stated.
"To the question of why we are offering the scheme, the global financial crisis in 2009 and 2010 was a factor and resulted in some excess capacity at the time. Growth was also slower than anticipated after that," Ionides said.
"We view the resultant surplus pilot situation as temporary, and are therefore managing this by introducing the voluntary scheme," he said.
The airlines did not halt pilot recruitment and training during the financial crisis as it takes three years to train a first officer, resulting in the current pilot surplus as the aviation sector struggled to take off, Ionides said.
Pilots who take up the offer will be allowed to work for other airlines, including SIA's long-haul budget carrier arm, Scoot, which will begin flying by the middle of this year. SIA also owns almost 33 percent of budget carrier Tiger Airways.
"Should there be positions available at Scoot, pilots on voluntary no-pay leave may apply for them," he said.
However, if the pilots were to join a rival carrier they could find themselves starting at the bottom of the ladder, while the fact they would only be available for two years at most might work against them.
Brendan Sobie, Southeast Asian chief representative of the Centre for Aviation, said SIA would be able to weather the turbulence in the industry.
"It's possible that they could potentially slip into a loss for a couple of quarters, but for the full year they've always remained profitable," he said. "They're definitely not an airline that's at risk of dying."
Comments will be moderated. Keep comments relevant to the article. Remarks containing abusive and obscene language, personal attacks of any kind or promotion will be removed and the user banned. Final decision will be at the discretion of the Taipei Times.