Uruguay village lures jet set with rustic and gastronomic charm
It is a dusty village of 200 nestled in Uruguay's back country, with no obvious architectural attraction, which most tourists would drive through without a second thought.
However, in recent years, the town of Pueblo Garzon, 70km from the bustling beach resort of Punta del Este, has become a draw for the international jet set looking for peace and quiet, along with authenticity and a taste of some unique gastronomy.
The transformation of the modest village began eight years ago when renowned Argentine chef Francis Mallmann opened a hotel and restaurant on a site where a grocery store used to be.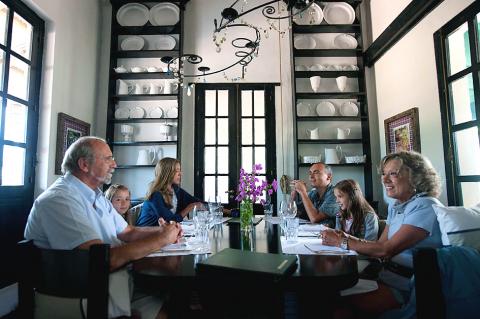 Tourists wait to be served at the Restaurant Garzon in Pueblo Garzon, 187km east of Montevideo, Uruguay, on Jan. 12.
Photo: AFP
That attracted some well-heeled visitors and started a trend in the village of dirt roads and lush tropical vegetation.
Today, the streets are lined with luxury cars, high-end restaurants and boutiques and plenty of visitors from around the globe willing to spend US$170 for lunch or US$780 for a hotel room with rustic charm during the high season of December to February.
In the town, which had been a stop for travelers in the mountains and the site of wheat mill, visitors can dine on smashed gigot of lamb, magret of duck with malbec juice and varietal wines from the region.
They can stay overnight in rooms with wood-burning chimneys and other refinements.
"The idea is to allow customers to relax, to take horseback or bicycle rides, to take advantage of nature, silence and good food, and to get away from the city, the beach and the crowds," said Victoria Ubertone, hotel manager at the Garzon hotel and restaurant.
"The calm is impressive. It is a back country village like a lot of others, but very chic," said Monica Testoni, an Argentine who was vacationing in Punta del Este and made a trip for lunch to Garzon.
Across the town square, another famed Argentine chef, Esteban Aguirre, recently opened his restaurant and cultural center called D'Cepa, encouraged by the success of Mallmann and others.
Along with Lucifer, the other upscale restaurant in town, "we are trying to round out our offerings for tourists," Aguirre said.
The influx of wealthy tourists along with the installation of a food processing plant in 2000 is a godsend for local residents, who had been hoping for a restoration of a rail link that was abandoned when a wheat mill shut down.
"There is a change in the outlook for people," Garzon Mayor Fernando Suarez said. "The village is finding a new direction."
With the town's transformation, more people are seeking to build homes, in some cases hiring local residents for upkeep. Some of those investing, according to locals, include British art dealer Martin Summers and a top executive of the New York Times.
This has caused a jump in land prices, so a lot of 400m2, which used to sell for US$1,000 now can go for upwards of US$30,000.
Suarez said this is not a problem because "those who come here respect the essence of the village."
However, others like Veronica Deliotti, a restaurant worker, wonders if the small town atmosphere is disappearing.
"Our children's future is changing," she said. "Sometimes I'm afraid. We don't want to lose this tranquility."
Comments will be moderated. Keep comments relevant to the article. Remarks containing abusive and obscene language, personal attacks of any kind or promotion will be removed and the user banned. Final decision will be at the discretion of the Taipei Times.