US schools retool with an eye on tomorrow's skilled labor needs
At the Escuela Vieau School in downtown Milwaukee, Wisconsin, seventh-grader Camila Garcia was building a model wind turbine in a class intended to spark interest in engineering.
"At first, I thought: 'This is for boys, it's not for me. I can't do it,'" the 13-year-old recalled. "Now I see that I can do it and that it's fun."
Her nascent interest in both learning math as well as the skills to apply it — measuring, designing and assembly — is a hopeful sign for manufacturers facing an unfamiliar problem as the US grapples with high unemployment.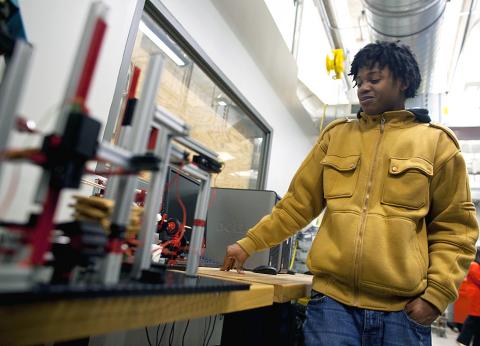 Yaun Smith talks about the s'mores assembly line that his class created as part of the Project Lead the Way initiative at Bradley Tech High School in Milwaukee, Wisconsin, on Jan. 26.
Photo: Reuters
After years of cutting workforces, executives say they cannot find enough people with the skills needed to thrive in modern factories. About 600,000 skilled manufacturing positions are unfilled in the US, according to a survey by Deloitte and The Manufacturing Institute.
Even though 23.8 million Americans are out of work or underemployed, many people applying for manufacturing jobs are unqualified. Beyond the requisite technical skills, they lack essential cognitive skills, recruiters say.
"We're having a challenge, increasingly, finding capable people coming out of our secondary institutions, primarily high-school educated, that have the capability to work in some of our operations," said Stuart Levenick, group president at Caterpillar Inc.
It is a problem that has also caught the attention of policymakers — the White House has launched a program co-chaired by the heads of Dow Chemical Co and the Massachusetts Institute of Technology to promote the training of students in science, technology, engineering and math.
Escuela Vieau and the other 4,200 middle and high schools in the Project Lead the Way program are part of a possible solution, teaching problem-solving and hands-on skills.
Projects range from Garcia's wind turbine to high school robotics classes, where students use small industrial automation systems to build machines that perform multi-step tasks, such as putting marshmallows, chocolate and graham crackers together into s'mores snacks.
"Many of our students simply don't know what kind of jobs are out there," said Eduardo Galvan, principal at the school, located in an inner-city neighborhood where many parents work in low-wage jobs. "It's a way for them to get to know what an engineer does and to get exposure to different kinds of work."
MANUFACTURING EVOLUTION
Modern US factories bear little resemblance to the production lines of the 1950s and 1960s, where hundreds of workers performed repetitive tasks such as attaching parts to a car or tightening bolts on a refrigerator, which often required significant physical strength.
Instead they tend to fall into one of two modes. One is high-speed automated plants where specialized machines produce large volumes of nearly identical products, such as fabric or razor blades, and workers make sure that the machines run smoothly and get them back online quickly when they break.
The other is plants that make highly customized capital equipment, such as airplanes or industrial machinery, where each unit is slightly different and workers' job is to meet the varying needs of different customers.
In either case, employers are looking less for brawn and more for people who have math skills and a grasp of how their complicated equipment works. They do not need full-fledged engineers, but workers at ease in the mechanical world, able to apply scientific and technical principles to structures and manufacturing processes.
"It's about problem-solving, being able to think on your feet," said Nick Goebel, who heads a Rockwell Automation Inc unit that trains workers at factories, some of which use the company's industrial control systems.
While Goebel encounters workers with technical school backgrounds who lack the problem-solving approach that manufacturers look for, he also finds that some with engineering degrees lack the hands-on skills to thrive in manufacturing that were once taught in high school shop classes.
"I went to school with engineers who could tell you all about the thermodynamics of an engine, but couldn't take a spark plug out of it," said Goebel, whose company helps fund the Escuela Vieau program and similar ones at other schools near its Milwaukee headquarters.
"In a technical college, generally they know how to take the engine apart and put it back together, but they don't understand how it works," Goebel said.
This has forced companies themselves to fill in holes left by inadequate schooling, where many young Americans are not exposed to working with robots, for instance.
One example is Stihl Inc, a privately held German maker of chain saws and other tools that operates a 2,000-person manufacturing plant in Virginia Beach, Virginia.
The company offers extensive training programs to its staffers, including Julian Gonzalez, who joined the company in 2006 after tours in the US Marine Corps and Army. With help of classes at a local community college and further corporate training, the 39-year-old Gonzalez has worked his way up to the role of maintenance operator, where he oversees the machinery that makes plastic cases and handles for Stihl power tools.
"I consider myself lucky to be here," Gonzalez said. "They realize that it's better to put back into your work force, that it makes a better, more profitable company."
NO MORE SHOP CLASS
The retirement of the baby boomers, aged 48 to 66, who started working in factories in the 1960s,1970s and 1980s, is accelerating the problem. They grew up in a world where children amused themselves by building go-carts and tree houses, rather than by playing video games and texting friends.
As US manufacturers cut their headcount by 40 percent during the past three decades to the industry's current 12 million workers, they created a supply of experienced yet unemployed or underemployed people who could step into vacant factory jobs. However, those people are now reaching retirement age.
One reason the experienced baby boom manufacturing workers will be so hard to replace is that the high school shop classes where many of them learned their skills were phased out in the 1980s and 1990s, said Emily DeRocco, president of the Manufacturing Institute, the educational arm of the National Association of Manufacturers.
"We have very falsely silo-ed education and workforce training, resulting in ... an educational system that really doesn't care about the ability to get a good job," said DeRocco, who served as assistant secretary of labor and employment in the administration of former US president George W. Bush.
The shop classes where generations of Americans learned to make birdhouses and other simple projects were eliminated as educators focused more on learning to use computers than hand tools.
Today, manufacturers are trying to swing the pendulum back part way — teaching students to use computer-controlled motors to power a simple machine in a high school class offers some preparation for running a high-speed production line.
The skills deficit is starting to hurt US manufacturers, Goebel said, which is why companies such as Rockwell are funding schools that teach the skills they are looking for.
"The supply and demand issue is starting to be real. There is a gap there," he said. "You go back to basic economics, until there is that gap and it's painful people are not going to act. And now, that's what's happening."
Comments will be moderated. Keep comments relevant to the article. Remarks containing abusive and obscene language, personal attacks of any kind or promotion will be removed and the user banned. Final decision will be at the discretion of the Taipei Times.