Toymakers roll out apps as technologies collide
Not wanting to be left out of the smartphone and tablet craze, companies are flooding the market with interactive toys and games aimed at toddlers as well as teens
Having found this holiday season that they cannot beat Apple Inc's iPad, iPhone and iPod, toymakers have lined up a host of playthings that come to life when hooked up to the devices, gadgets that kids love to play with.
Industry insiders call them "Appcessories," and expect a wide array of these items to be on display at the American Toy Fair, which officially opens to the public in New York today.
"The manufacturers have realized this is a hot area, and they are all jumping on it," said TimetoPlayMag.com editor-in-chief Jim Silver. "It is an opportunity to extend the ages you are selling to."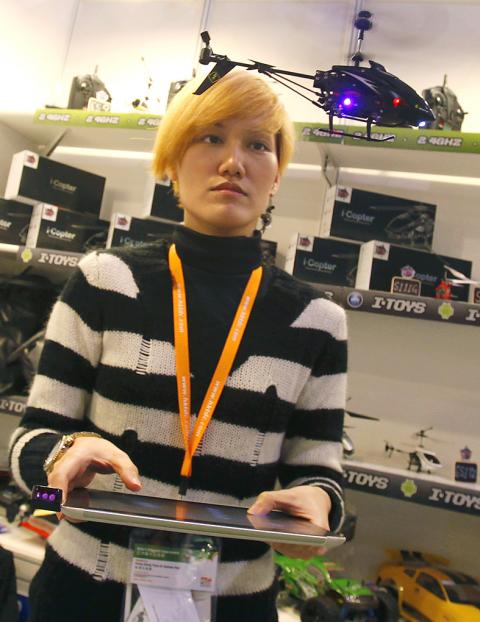 A toy helicopter flies while being controlled via infrared technology by a tablet computer app at the Hong Kong Toys and Games Fair in Hong Kong on Jan. 10.
Photo: Reuters
The trend comes as companies, scarred by a holiday season when toy sales fell 3 percent in the US, look beyond traditional toys to woo tech-savvy kids, many of whom have grown up playing on their parents' smartphones or their own gaming consoles.
"Today's gamer is looking for experiences in games that include the marriage of digital and analog, face-to-face, and off the board gaming," Hasbro Inc chief executive Brian Goldner said.
Hasbro, the maker of G.I. Joe toys and the Monopoly board game, plans to jump on the Appcessory bandwagon through its zAPPed gaming platform.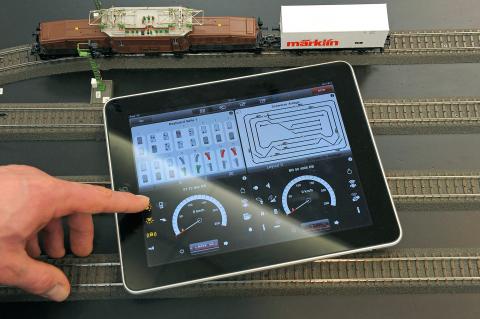 German model railway manufacturer Maerklin showcases a control app during the 63rd Spielwarenmesse International Toy Fair in Nuremberg, Germany, on Jan. 31.
Photo: EPA
When you play with Hasbro's The Game of Life zAPPed, you will still move your car from space to space and select your path to retirement on a game board, but now you spin, get paid, sue other players and make important decisions on your iPad, after downloading a free app. The game will cost about US$25.
However, Hasbro is not the only firm to have entered this arena.
Canada's Spin Master Ltd is betting big on an array of accessories for Apple products as well as devices running Goolge Inc's Android operating system under the AppFinity label.
"When you talk about the holy grail of toys, manufacturers have been trying to find a way to marry the tech and the toy world," Spin Master spokesperson Harold Chizick said, adding that Appcessories might just be what they were looking for.
Spin Master hopes its AppDrive will appeal to racing enthusiasts by allowing them to use a steering wheel that can hold an iPhone, and play racing games using an app on the iPhone, while AppFishing will enhance "virtual fishing" using a rod that can hold an iPhone. Priced at US$20 each, they will hit stores in the fall.
Industry heavyweight Mattel Inc will try to broaden the appeal of its classic brands such as Fisher-Price Inc and Barbie, as well as Monster High through its Apptivity line.
One product in this line is Fisher Price's Laugh and Learn Apptivity Case, which is basically a US$20 sturdy case that will protect parents' iPhones from "dribbles, drool and unwanted call-making."
The item, which features beads, a mirror and free learning apps, will help babies practice hand-eye coordination, Mattel says.
Toymaker WowWee Group Ltd, known for its little robot toys, will unveil its AppGear line, which combines physical toys with iOS and Android apps. For example, in Alien Jailbreak, which is an augmented reality shooter game, the player looks through his or her smartphone and tries to stop aliens from escaping from prison. AppGear products will be sold at about US$10 to US$20.
Companies such as Discovery Bay Games and Crayola LLC also hope to offer compelling products in this category.
Rising teen cellphone ownership, growing demand for mobile computing devices such as tablets, and the explosive demand for mobile apps are other factors boosting the trend.
As of September 2009, 75 percent of US teens aged 12 to 17 had a cellphone, a number that has steadily increased from 45 percent in November 2004, a study by Pew Research Center showed.
"Until now, traditional retailers or brick-and-mortars have been unable to tap into this huge growing market. They've been left out of the app party," said Mike Gonzales, creative director and digital brand manager for WowWee.
Like many others, Gonzales now sees "an opportunity to take a bite out of the app pie."
At an event earlier this week, Toys"R"Us CEO Jerry Storch summed up the trend: "The combination of the physical world and virtual world is so powerful that it's almost unexplainable."
One of Storch's favorites heading into the year is the followup to Activision's Skylanders, a video game that comes with physical toys that spring to life on screen when they are hooked up to consoles such as Microsoft Corp's Xbox or Sony Corp's PlayStation. A chip inside the figurines stores a player's progress in the game.
The latest iteration, called Skylanders Giants, will feature characters that are taller and have new kinds of power. The newer characters can also light up without needing batteries.
"Skylanders will be even larger in its second year than its first year. It could be one of the biggest toy franchises of all time," Storch said.
While the toy industry is betting big on Appcessories, a few parents are skeptical.
Amanda Bergman, a New Jersey-based Web editor and mom of two, said she would "probably not" buy toys and games that will come to life with a tablet or smartphone.
"Sounds like kind of a hassle, to be honest. I'd prefer to maintain the separation between toys and iPad. And I feel like the novelty would wear off quickly," said Bergman, who normally lets her children, three-year-old Elliott and five-year-old Adrian, spend one to two hours on average on her iPad.
Comments will be moderated. Keep comments relevant to the article. Remarks containing abusive and obscene language, personal attacks of any kind or promotion will be removed and the user banned. Final decision will be at the discretion of the Taipei Times.