China, Japan to promote direct trading of currencies to cut costs for companies
Japan and China will promote direct trading of yen and yuan without using US dollars and will encourage the development of a market for the exchange to cut costs for companies, the Japanese government said.
Japan will also apply to buy Chinese bonds next year, the Japanese government said in a statement after a meeting between Japanese Prime Minister Yoshihiko Noda and Chinese Premier Wen Jiabao (溫家寶) in Beijing yesterday.
The deals between the world's second and third-largest economies come as the two-year-old European debt crisis keeps global financial markets volatile. Japan will start to buy "a small amount" of China's bonds, a Japanese government official said on condition of anonymity because of the ministry's policy, without elaborating on when and how much of the debt the nation plans to purchase.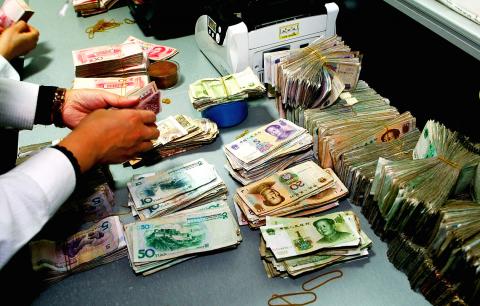 A clerk counts stacks of Chinese yuan notes at a bank in Suining, Sichuan Province, China, on Dec. 13.
Photo: AFP
"Given the huge size of the trade volume between Asia's two biggest economies, this agreement is much more significant than any other pacts China has signed with other nations," said Ren Xianfang (任現芳), a Beijing-based economist with IHS Global Insight Ltd.
Japanese Minister of Finance Jun Azumi said on Tuesday that buying Chinese bonds would be beneficial for Japan because it would help reveal more information about financial markets in China, the world's largest holder of foreign currency reserves.
Encouraging direct yen-yuan trades will aim to reduce currency risks and trading costs, Japan's government said. Currently, about 60 percent of trade transactions between the two nations are settled in US dollars, according to Japan's Ministry of Finance. China is Japan's biggest trading partner.
Then-finance minister Noda said in September last year that Japan should be able to invest in China's market given that China buys Japanese debt. Japan holds US$1.3 trillion of foreign-currency reserves, the world's second largest.
Austria has already been granted eligibility to buy Chinese bonds, according to the Japanese government official. Central banks from Thailand to Nigeria plan to start buying yuan assets as slowing global growth has capped interest rates in the US and Europe.
Investing in Chinese debt has become easier for central banks as the issuance of yuan-denominated bonds in Hong Kong more than tripled to 112 billion yuan (US$18 billion) this year and institutions were granted quotas to invest onshore.
China sold the second-biggest net amount of Japanese debt on record in October as the yen headed for a postwar high against the US dollar and benchmark yields approached their lowest levels in a year. It cut Japanese debt by ¥853 billion, the Japanese finance ministry said on Dec. 8.
Separately, the Japan Bank for International Cooperation, JGC Corp, Mizuho Corporate Bank Ltd, the Export-Import Bank of China and other Chinese companies will establish a US$154 million fund to invest in environment-related businesses, such as recycling and energy, the Japanese government said.
Comments will be moderated. Keep comments relevant to the article. Remarks containing abusive and obscene language, personal attacks of any kind or promotion will be removed and the user banned. Final decision will be at the discretion of the Taipei Times.